There is only one method for a lapidary to create matched gemstone pairs to be used in custom earring type jewelry designs.
It is necessary for the lapidary to begin with a solid piece of gemstone mineral in rough form. There is no other way because we have to have two matching slabs from the same piece of rough sliced back to back. Once laid out, we can decide on any number of areas from both slabs limited only by the sizes of the matched pairs we are cutting and shaping for the designer of the jewelry pieces.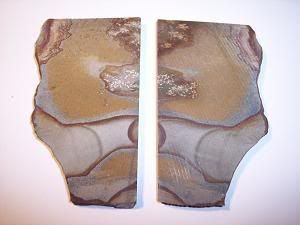 This is where it makes all the difference in the world in regards to having a relationship with a lapidary like myself. Not only has the jewelry designer decided upon the mineral type, but once the designer has had an opportunity to view the slabs, they are able to really work with me in a way that results detailed options that actually allow the jewelry designer to design the gemstone cabochons. The designer of the jewelry piece has the options of actually working with the colors and grains within the slab and incorporate them into the piece of jewelry.
Once the slabs are laid out, I will cut out the desired shapes from each piece so that both match to the desired specs of the designer. Here is an example of a matched gemstone pair from the slabs above.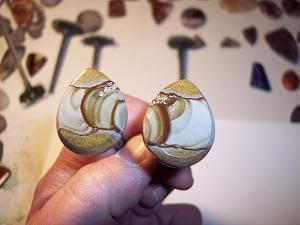 This same technique can be used in any number of different custom jewelry designs. From bracelets, cuff links, necklace sections, and earring pairs. The technique is limited only by the creativity of the jewelry designer and the ability of the lapidary to bring it all together.
I do have a nice selection of pre-cut matched gemstone pairs available. Of course I encourage jewelry designers to consider requesting information about minerals available and to discuss design possibilities.
Latest posts by georgeingraham (see all)