I have had several requests for drilled gemstones. So, the other day I went out and purchased a bench style drill press.
I decided to get right to it and try making some necklace and bracelet sets. Since I had a request for a set made from some fossil coral, it seemed like a great place to get started!
I started of of course by cutting some up into slabs. I knew that if I was going to make a nice set, it would have to be nicely matched. So using slabs cut back to back from the same piece of rough, I laid them out and began to cut out pieces in an order that would result in matching the right side of the center piece to the left side of the center piece/pendant.

Here is the results for the first bracelet set prior to drilling and of course prior to shaping so as to be able to drill into a flat surface.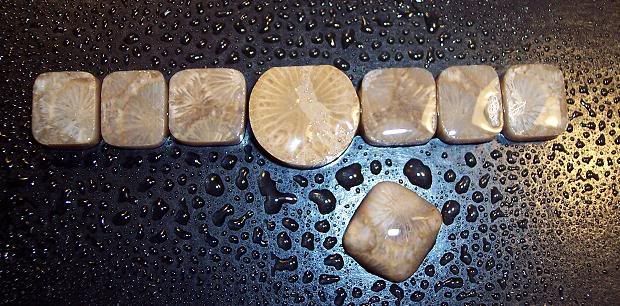 Then moving on to the necklace piece. The request was to make a set like this one, except with drilled holes.
So the process was the same up to when it came time to figure out exactly what angle to drill the holes so that the tooth like stones would hang properly.
After asking for some suggestions, it was agreed to drill at an angle shown on the right set of stones.
So for now, until the vise I ordered shows up, which I hope is Monday, I have things to a point for both the bracelet and necklace sets where I will be ready to drill.
Will make another blog entry as things progress !
Of course if your new to my blog and have not visited our Lapidary / Gemstone Community Forum, you can follow along there too!
Latest posts by georgeingraham (see all)