Here is another absolutely beautiful gemstone mineral I totally enjoy making cabochons from.
This mostly Azurite with druzy mixed with a little Malachite rough I purchased at a local fair. I had been befriending the owner who together with his wife spend the summer setting up their jewelry booth throughout the Pacific Northwest.
He has been rock hounding and cabbing for several years and had brought a few pieces of this Azurite with druzy rough with him this trip.
I had been looking for some druzy material for a customer. One thing for sure. When trying to shop for "druzy", ya sure don't want to search the internet using that term. Everyone wants an arm and a leg for decent druzy.
If you spend the time shopping rough, and patiently look closely at certain mineral types, you can find people selling various rough with druzy. They are not selling it with the intent of labeling it "druzy". It's the only way that I have found to stumble upon druzy at reasonable prices.
Here is a pic of a piece that was about four inches round. Just for fun, here is a link to a thread within the fourm about this and some other interesting and unique druzy minerals as well.
Any way here are a couple of pics prior to slabbing while trying to also cut out the areas of druzy.
After cutting out the primo areas of druzy and a few nice slabs, began to really start playing !
When we first started talking about druzy on the forum, I began hunting for ideas on shaping cabochons in a way that would let me blend the druzy into the finished cab. Something I was not at all familiar with until I began searching the internet for "druzy" topics and gemstone sites.
As with the druzy rough, the price of a nice cabochon with exposed druzy are rather pricey as well. It's just my two cents worth, but many seemed overpriced.
Some of the druzy areas had sort of a dirty appearance to it. I am still trying to find out if there is some type of chemical that will remove it. Although I am not entirely sure that beneath the stained area are nice clean druzy crystals, or if what I see here on this cab is just all there is and nothing more.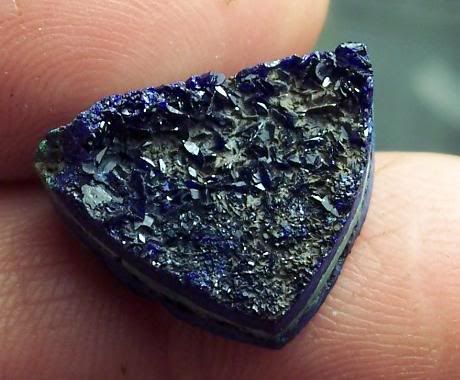 One other thing I ran into right off the bat was dealing with a lot of porosity. As a result I began experimenting with Opticon, and also some epoxies to fill these pitted areas. I would have to coat the entire surface of the stone and then completely sand that all off without over sanding resulting in cutting right on through the filled pits. Very difficult to do with this soft Azurite mineral.
Here are a couple of pics where you can see the coatings and the attempts to sand them clean. None of them turned out at all. That really narrowed down the amount of quality cabs that were yielded from the entire piece of rough. A lot of the rough was just not working out for cabbing.
Here is probably the best of the Azurite with druzy cabochons that turned out well enough that I was comfortable selling to a customer.
The next thing to try is to accent other minerals with the druzy areas cut from the original piece of rough. Similar to this Imperial Stichtite with the Zoisite crystal accents.
I just cut this high grad Sodolite cab with the same intent. I think may well do the same with it, except use the Azurite druzy in place of the Zoisite crystals in the above set.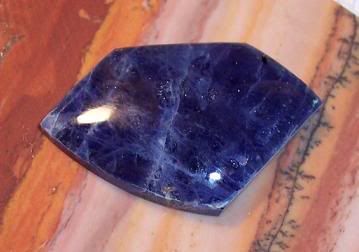 I have some of the Azurite druzy areas left over. So if something like this is interesting enough that you would like information about how to have me cut you a gemstone, feel free to contact me for details.
Hope you enjoyed. Be sure to leave any comments. I would enjoy talking more about this or your experiences with similar attempts at these types of minerals and druzies.
Latest posts by georgeingraham (see all)