Remake Classic and Collectible Jewelry
Heirloom, Kitsch, Traditional
Brenda Schweder
ISBN:  987-0-87116-266-3  Published by Kalmbach Books
This is a new book in my collection; I gave the first copy to my business partner and best friend for Christmas.  She LOVES vintage jewelry and has a large collection already.  For pieces that may need a new life, Vintage Redux will give the reader many unique, fun, and wonderful ideas.  One of the surprising finds in this book is the range of projects, from those that are very trendy to some that maintain a very classic and timeless look.
This is a great way for anyone who has a collection of odds and ends pieces of vintage jewelry that really do need some tender loving re-work in order to be worn again.  Women often end up with collections of kitsch-y costume jewelry from their relatives, or pins that are woefully out of style but still in great shape!  And, who hasn't a small cache of earrings that have lost their mate!  Adorable, and still in vogue, they need to be re-purposed.
Brenda Schweder begins with an outline of what is suitable for redux.

 

Of course, the final decision is up to the owner, but she cautions us against dismantling true antique pieces.

 

Remember that sometimes even repairing

 

true antique pieces can lessen their worth. She also describes ways to clean old pieces that won't ruin a finish or damage stones.

 

She describes how to restring an old necklace, and how to incorporate those old Lucite beads into updated pieces.

 
I was amazed at some of her creative ways to repurpose a brooch, including a brooch cuff! 
The first project my friend Saundra reworked into her own style was a ring collection!  Brenda Schweder inspires you to look at jewelry designs in a whole new way.  Instead of what it was originally designed to be, she totally takes it out of the mold and reformulates into an entirely different jewelry piece.  And the results are fantastic!  So many times, in jewelry "how-to" books, you see a design and that's it; you may be able to use different colors, but basically it can't be re-worked with other types and styles of gemstones.  Not this book!  It's not limiting, it's liberating!  The project is more like a suggestion; from there your creative wings will take off for your own flight of fancy!
For those of us open to special orders from customers, this can open a whole new niche area.  While we'd have to have some caveats about taking a piece apart, we can use Vintage Redux as a stepping off place for a conversation with a customer and help her update an heirloom into a fashion statement. 
Vintage Redux is a valuable addition to my "how to" jewelry book collection.  It's novel, inspiring, and not like any other jewelry book I have so far!  Vintage jewelry is given a new life, one that is outside an old box or drawer and back out in the light of day!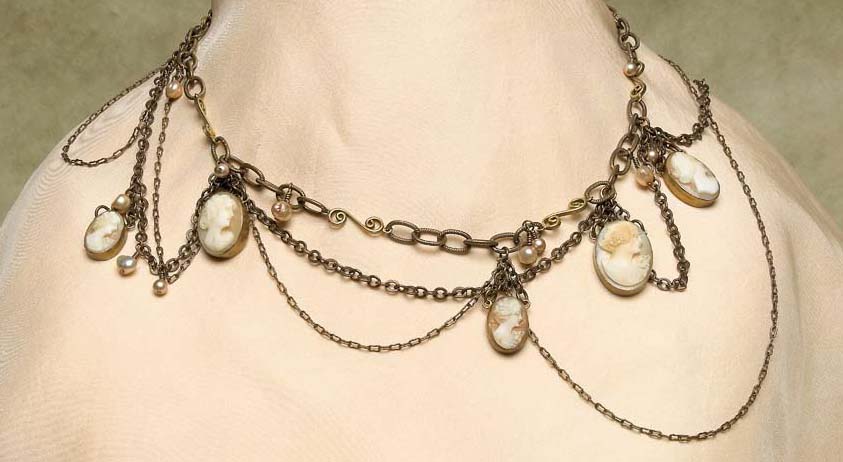 Latest posts by teribaskett (see all)