"Ga'Hoole Tree" comes from a children's fictional book series.  The Great Ga'Hoole Tree is a mythical place where an order of owls rises each night to perform noble deeds.  The great tree is a mythological sanctuary.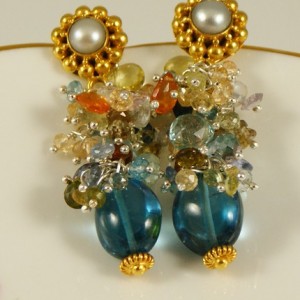 In a similar manner, the exquisite jewelry by Gahooletree Designs are mythical in their extravagance and luxuriousness. The Gahooletree collections include evening & formal, bridal, luxury and ornate pieces. Gahooletree Designs are definitely made from luxe gemstones.  Only Triple AAA quality gems are selected for these distinctive pieces of jewelry.
The most amazing, perfect gems are combined in phantasmagorical combinations, creating superb pieces of jewelry.  Gahooletree Designs are truly gemstone art you can wear. Designs are superbly harmonized to bring out the best in colors, luster, shape and form.
Anna Lee Husband is the artisan jewelry designer behind the Gahooletree brand of exquisite genuine gemstone jewelry delights.  Anna Lee has always been inspired by the wonderful variety of nature's gemstone treasures. She is an avid collector of minerals, gems and crystals.  Anna Lee's studio is located in Oshawa, Ontario.
Anna Lee hand picks her stones, using only top quality specimens. Plan on seeing very artistic creations in her store. Many designs incorporate several top quality stones to create mesmerizing pieces. For more information please visit the Gahooletree blog at http:///gahooletreedesigns.blogspot.com or see her store at http://www.gahooletree.etsy.com .
Anna Lee creates casual and contemporary jewelry under the SassyDLite brand.  You can read about this at my SassyDLite article.  She also sells studio overstock of her rare gemstone beads and jewelry findings at Gahooletree Supplies on etsy:  http://www.gahooletreesupplies.etsy.com.   Her  main jewelry website is Oracle Gem Designs http://www.oraclegemdesigns.com.   She would love to hear from you regarding any of her work or ways to promote your store with eSMArts.  Feel free to email Anna Lee for any reason at tiger_eye at rogers dot com
Latest posts by teribaskett (see all)