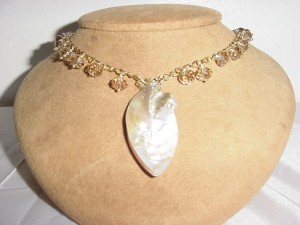 Yvette Jones is a leader in independent jewelry design. She is also an accomplished visual artist, educator and arts programs administrator. She completed a Masters of Art at New York University and Bachelor of Science, Art Education at Long Island University. Her background in the arts is reminiscent in her jewelry through her flair for color, attention to detail, and craftsmanship.
Chic Designs by Yvette was started after receiving great encouragement and gratification from numerous people who had already fallen in love with her jewelry. Her jewelry and their vibrant stones reflect her belief that stones link people spiritually across cultures. Sparkling swarovski crystals, rhinestones and colored gemstones  using unique shape patterns and designs. Drawing from her paintings, sculptures and ceramics, Yvette's jewelry is fresh and original.
Yvette has always had an interest in art. When she first put her hands into paint—the youngest member of her mother's art class—her creativity blossomed. Her inspiration first began at home where she would observe her mother sketch, paint, and draw. Painting and drawing throughout her school days, Yvette's teachers encouraged her to develop her own skills as well as to teach others. Overseeing innovative programs for a wide range of audiences, Yvette enjoys encouraging youth and adults to meet their full potential whether it is creating or simply learning more about the visual arts. She has taught and created art for over fifteen years.
 RECENT PRESS ARTICLE
http://justbrowsing.lohudblogs.com/2008/12/18/jewelry-made-here/

 NEWS
Chic Designs by Yvette is dedicated not only to producing high quality jewelry but also to giving. Charities that are particularly special to Yvette are supported through auctions and individual giving. Last and this year, Yvette designed pieces for  The American Cancer Society's 2007 Diamond Gala and 2008 Annual Luncheon.  In 2009, Yvette is designing a piece for In The Pink Foundation -Breast Cancer Awareness and has joined  Designers 4 Africa; which is an organization created to help unite designers with non-profit charities benefiting Africa. Donations support many important and worthy efforts taking place including building wells for clean drinking water in remote areas and with St. Joseph's Hospital, Nosing Home, Recreation Department.
In addition, Chic Designs by Yvette is participating in The 9th Annual Westchester County Bridal Expo
WHEN: January 31 , 2009
WHERE: Westchester County Center
                 198 Central Ave
                 White Plains , New York
SHOW HOURS: Saturday, 11am to 5pm
TICKETS: $8.00
Enjoying the creative process, Yvette frequently produces custom designs based on the interests of new and longtime clients. Whatever the occasion, Yvette's jewelry is quickly recognized as beautiful, one-of-a-kind pieces that are long admired. To learn more about Yvette or her collections please email her at info@yvette-jones.com or visit www.yvette-jones.com (which is currently being updated).    
{ 0 comments }
Latest posts by yvettejones (see all)