Genevieve Flynn Studio/School announces the line up of instructors for 2013
I am a bit late in posting the whole list of instructors this year and I apologize for that.   It is difficult for me to keep up with all that I have to do hence my hope to get an intern to help with some of the load.
March 22-23, 2013    Bill Seeley of Reactive Metals           ANODIZING REACTIVE METALS
June 14-16, 2013       Anne Havel                SOME LIKE IT HOT, TORCH FIRED ENAMELS
June 24-28, 2013      Fabrizio Acquafresca   CHASING AND REPOUSSE THE ITALIAN WAY
July 12-14, 2013          Fred Zweig          HINGES AND ARTICULATIONS
September 16-20, 2013   Chris Nelson      URBAN ARMOUR; IRON JEWELRY
THIS CLASS IS IN THE WORKS TO SEE IF I CAN GET ENOUGH SERIOUSLY MINDED PEOPLE TO COMMIT ASAP!
NOVEMBER 11-16 OR NOVEMBER 18-22, 2013    FORD HALLAM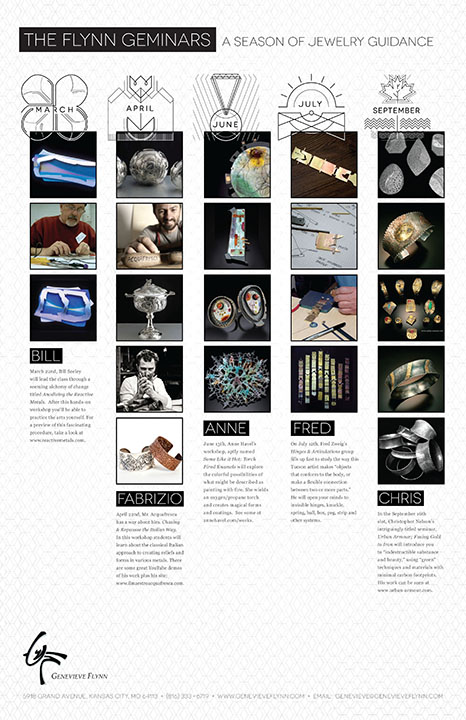 2013 Visiting Artists
Genevieve Flynn Studio/School
{ 0 comments }
Latest posts by genevieve (see all)