This is my latest commission from a chap at my hubby's work – who actually appreciates the value of handmade!  It's to give to his daughter for her birthday.   He asked me to make a necklace/pendant with the word "Angel" in Arabic, about 2″ long, as she loves anything to do with angels apparently, on a 16″ chain.  I gave him the option of me arranging the chain as shown below, or having half the chain attached to one end and the other half attached to the other end – I'd have chosen a different style of chain had he chosen that option, as contrary to my early beliefs and experience, snake chain doesn't solder well onto pieces – it goes too brittle.  He provided a photograph of her tattoo (which also says Angel in Arabic) and I consulted with a friend who lives in Saudi Arabia, and he sent me a better version, as the tattoo photograph was not very clear:
The following is the improved version my Saudi friend sent to me:

And here is the finished article, made from Cookson's Brilliante sterling silver: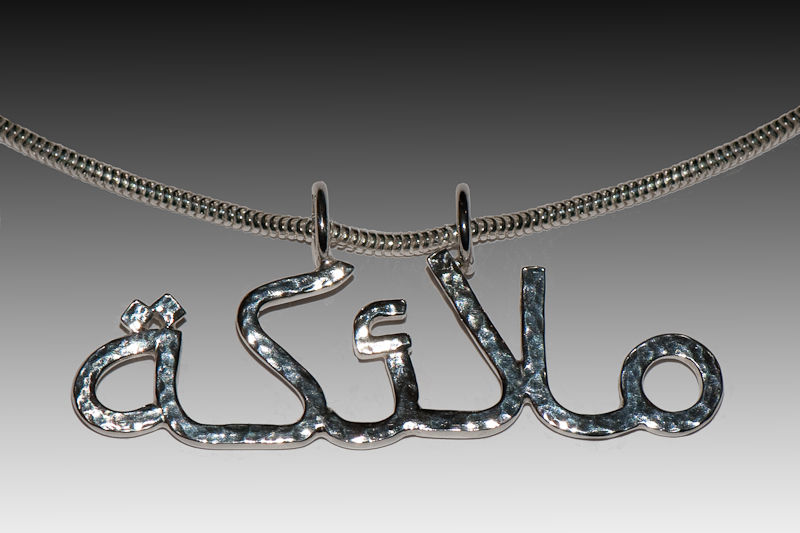 Obviously, the way it was made, I had to join the small elements to the main characters, but I still think it works well.  I made it from 2mm square wire.  Next time I do something similar, I will be using Argentium, as I really enjoyed working with that on the "Spitfire" cufflinks but I'd already ordered the wire to make this necklace.  (Woo hoo, I think I just managed to insert a link!). I decided to give it a hammered finish.  I had asked my husband what he thought and he said "no, leave it plain".  He then said "do you want me to ask him?" and I said "no, I'm the designer, I'll decide" (ooh the power!) and went about my business with a gorgeous Fretz hammer.  I thought if he asks him, he may not realise that it will look better, and will probably say no, so I'll just go with it.
As for photographing my jewellery, I think we're getting there!  It's certainly an improvement.  I've been asking him to create this effect for over a year now, and he's finally listened to me!  These things take time you know. 😉  It was shot on a white background (actually on an upturned studio light with softbox attached, to blow the background completely) and the graduated background Photoshopped in afterwards – by my dear hubby.  He seems to have something against using my light tent for some reason, even though that's what I bought it for.  However, I think it would be far less work if we could create the same effect using lighting at the actual time of shooting, and I don't think he'd be able to Photoshop some pieces quite as easily, eg. something with a complicated chain, or anything with lots of holes in it.  I think the right background, with the right lighting, in my light tent would work much better and be less work.  I've emailed people who get similar results, asking them how they achieved their images, but none of them are willing to share their secrets unfortunately, so we have to figure these things out on our own.  I've also asked on our photography forum, but they just don't get what it is I'm trying to achieve.  You get all sorts of "try using black velvet" type comments, which make me want to scream!  It's SO seventies.  In the end, I just said, "look, this is what I'm after" and provided a few links, then asked if anyone had ideas of how to achieve that look.  I didn't get any answers after that.
Anyway, the client and his wife absolutely love the necklace.  The chap said that it is exactly what he was after and that he loves the hammered effect!!!  Ha ha.  His wife has been hinting to him that she wants something from me for Christmas, so it looks like another commission is coming my way as a result!
{ 11 comments }
Latest posts by helen hill (see all)