I have been looking into the capacity for milling directly into exotic woods for finished jewelry items.  I have milled rings already, as can be seen in the current March issue of MJSA magazine where I have a step by step article in "At the Bench" section.
I Took a look at the construction of a bracelet my wife likes made from fused glass.  I took the construction of the multi-segmented bracelet and designed a wooden one in CAD with a leaf and vine pattern that runs through all of the links.
I began the milling here in cocoblo wood, but realized that the tighter grain of ebony was going to be a better material to show the subtle pattern.
I placed three of the 12 bar shaped segments on one milling tool path.  Here the roughing pass on the front is shown.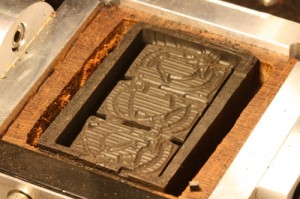 Latest posts by markmaxwell (see all)