Blue Gem turquoise (Nevada) section necklace C1945. This is a Thunderbird Shop made piece crafted in Frank Patania Sr.'s work shop. These are wonderfully matched pieces of Blue Gem turquoise. It measures 14 inches plus a 2 inch extension. It can be lengthened by adding a longer extension to maintain the original piece or I can add beads and restring the necklace for an additional charge.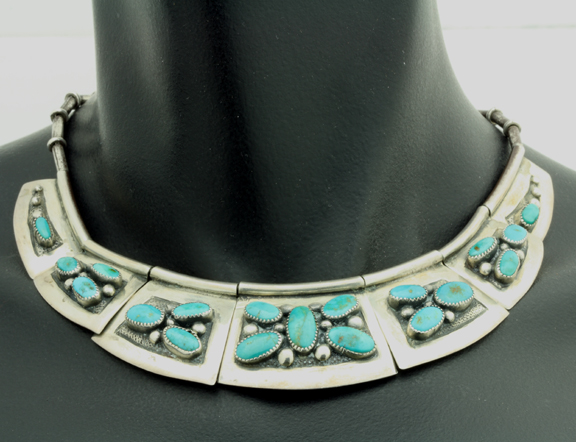 This is a fantastic example of Blue Gem turquoise. I could probably come up with a pair for earrings from vintage family stock. This large a set of well-matched Blue Gem very difficult if not impossible to obtain. $3,850
Nugget turquoise necklace C1945. This is turquoise Frank Patania Sr. bought from the Maryott family who were some of the first people to experiment with treating turquoise. Turquoise treated for hardness and color at the time was a novelty. The treatment assured the craftsman that the turquoise would not change color over time and would be harder than the usual available material. The Maryott and Patania families have known and worked with each other for generations.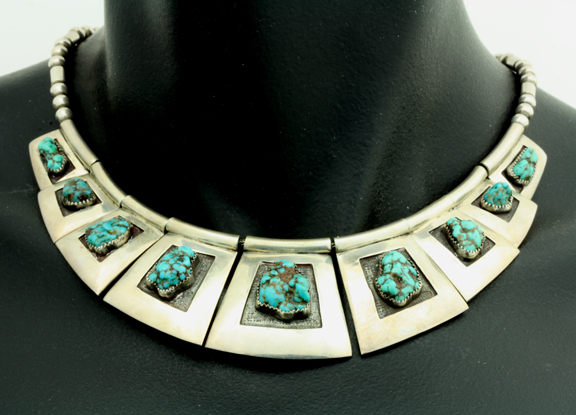 This necklace has the Thunderbird Shop hallmark and measures 15 inches long with a 1 ? inch extension. It can be lengthened to fit as I described above for the Blue Gem Necklace if necessary. This is pure Patania craftsmanship and design which is very recognizable. $3,000 Ask about the matching bracelet which is not Patania but a very good match. Picture and price of the bracelet on request.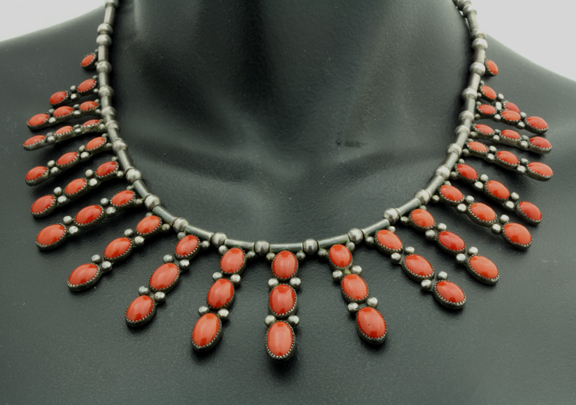 Coral section necklace C1955. This is a shop made coral necklace with 56 stones! This necklace is a fantastic presentation of color. Imagine it being worn with a black dress and simple earrings in sterling or sterling and coral. I have family stock of coral to make earrings if you are interested.
Coral is very popular and a piece like this won't come up often if ever again. As coral stocks dwindle the price goes up so apart from being a rare beast this piece is gorgeous. Crafted in Frank Patania Sr.'s Thunderbird Shop the Patania design and craftsmanship is clear. No mistaking this piece as Patania.
This piece measures 17 inches with no extension. It can be lengthened as the two above to make a perfect fit. $6,200
Please contact me if you are interested in any of these pieces,
Thank you,
Sam Patania (520) 795-0086
1830 E. Broadway, Ste. 124-204
Tucson, AZ 85719
{ 2 comments }