I recently installed the fourth commissioned piece for this synagogue's sanctuary.  I am very proud and pleased!
Here's a photo of me working on the installation of the handles for the doors to the ark, which is where the Torah scrolls are kept: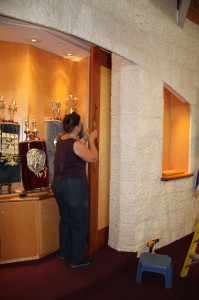 Handles for the Generations
The handles are 30 inches long, each made of 5 forged copper rods. The strands of copper are entwined together, as our lives twine together. The golden patina was made with torch heat and a dye solvent.  Like all the work I've made for this sanctuary, the handles are lacquered to preserve the patina, and to minimize maintenance.
The first piece that I made for this sanctuary is the Eternal Light (Ner Tamid, in Hebrew— The Eternal Light symbolizes God's constant presence with us.  This light is always lit—it may be electric, or lit with oil or a candle.  In any case, it is a requirement in a synagogue, needed in order for services to be held.)
The chains that I made for the suspension of this light inspired the design that was chosen for the handles.  Each link of each chain is a forged taper, creating hanging "vines".  The theme for this synagogue is L'Dor Va Dor, which means "From Generation to Generation".  It is intentionally ambiguous whether the forms look like flames or plants—-I like to give people something to ponder.
The second commission from the synagogue is the wall menorah, Generations: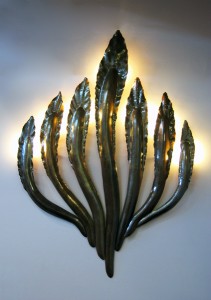 This wall sculpture is 4 feet tall, lit from behind with fluorescent bulbs. Each piece is made separately, and individually attached to the wall.  The "grunt work" of the synclasting (stretching the metal along the big "bulge") was done with my 50-ton Bonny Doon hydraulic press, "Thor".  Then I hand-finished each piece with traditional silversmithing hammering, planishing, texturing, and forming.
The third commission was to make a wall sculpture that is inspired by Psalm 151, which is about workshipping with joy and music.  Here is Dancing Hallelujah: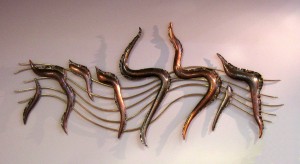 This is the largest piece I've ever made.  The "musical staff" is made of 6 foot-long forged bronze rods.  The sculpture is mounted an inch or so away from the wall, which creates dancing shadows.
I am looking forward to attending a service at this synagogue again.  As you might imagine, it's an incredible feeling!
Latest posts by Cynthia Eid (see all)