This is a hinged, sectional neck piece with a hollow-formed center section built up from a spiral around a section of copper tube.  The center piece depicts a space ship spiraling in to the empty negative space, maybe a black hole.  And, within the spiral are patterns with an almost tribal look to them.  Also, there is a ruby that is at the source, maybe a red planet.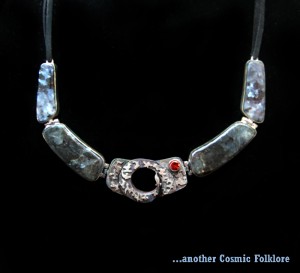 Lost in Space; Sterling silver, copper, Norwegian Moonstone Jasper, lab ruby
The four cabs are set in bezels on each side.  The stones are Norwegian moonstone, which is actually a type of jasper.  Besides its cool cosmic name "moonstone," it has a Northern European country in its name, which brings to mind stories of Valhalla, gods and goddesses, and ancient stories.
I've done a few other pieces, lately, using this Lost in Space theme.  I like the idea of using negative space in a hollow formed piece, and I like the play on the spiraling space ship with it.  Personally, I have never been lost, as far as not knowing where I was type of lost.  I am usually of the mindset that I am right here; therefore, how can I not know where I am?  But, at times I have been in situations where I don't know what exactly is expected of me.  Most of us have heard of being lost in love, lost in circumstance, or lost in translation.  At times in my life I have questioned my own decisions, wondering where it will lead me.  In previous works, I have used the symbol that I call the rocketfish to create metaphors about travel or sojourns.  So, it only seemed natural that I use the symbol with this idea.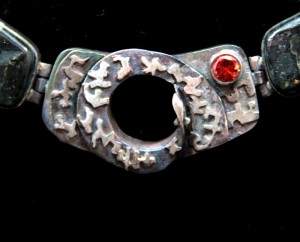 I created this one with the idea of using a leather strap to tie the piece around the neck.  I think that seeing the bow of leather on the back of the neck is sexy.  But, my girlfriend and marketing expert made me question how I should finish this one off.  I tried beads and a few different styles of hand-made chains, but I kept falling back on my original idea.  If someone wants to change the way it is hung, they are perfectly welcome to do so, but the way the design works now has more of a unique look with the combination of hinged metalworks and primitive leather.  And, if someone should be opposed to leather for some reason, I have a silk cord that can be used as well.
If the concept of "Lost in Space" has a different connotation to you, please share.  Or, let me know what you think.  I hope you enjoyed.
Latest posts by michaeljohnson (see all)