Lately I've been absorbed in making lots of earrings for the holiday season, using my new granulation skills. I've found fusing to be an easy and surprisingly speedy way to assemble things. Anyone who has experimented with granulation knows that the main problem is making the granules. My friend Iris solved this problem for me, with her 'splash' method, see this link for an explanation.

Using this method, you can make a nice tablespoon of shot quickly, using your fine silver scrap.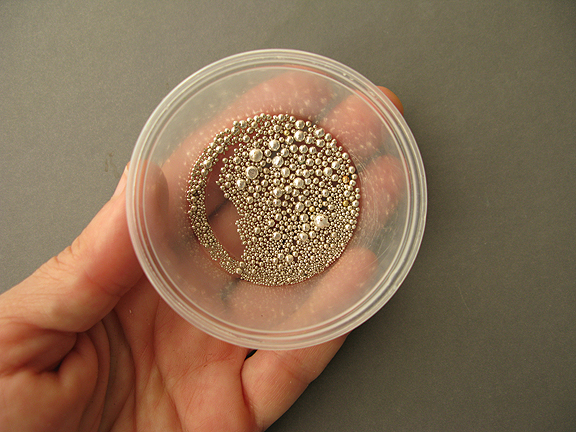 But to use the shot, you must sort it first. If you own a set of sieves, no problem, but what if you don't? If you are trying this technique out, you probably want to be sure you like granulation before you buy a pricey diamond sieve. Well, here is a simple way to sort your pile of granules into graduated sizes using tools that you may have in your house. I'll call it 'Straw Grading'.
Backing up, you might have some sieves laying around that you didn't notice. Here are two basin catch-thingys I got at the oriental food market yesterday, and a stainless screen I regularly use for soldering on a tripod.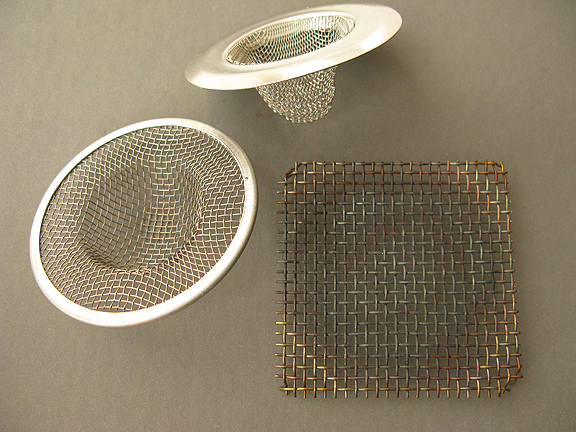 For the purposes of this demo, I am going to use the soldering screen to remove the largest of the shot, but you could just as easily pick out the largest balls with tweezers.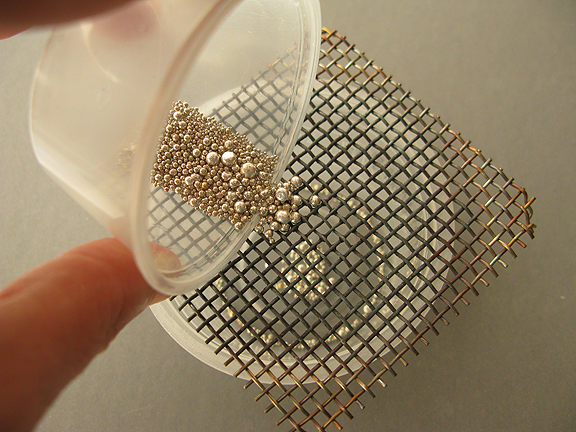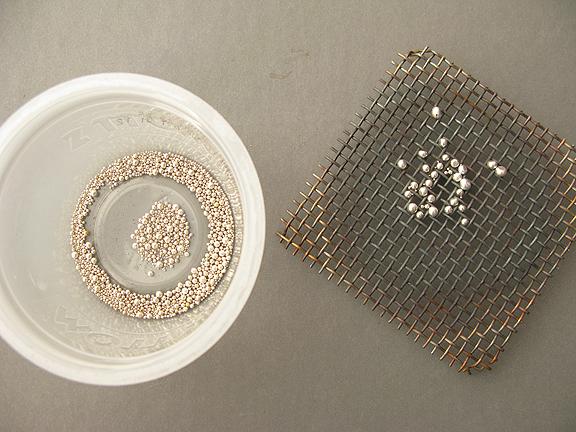 Next, get an ordinary plastic drinking straw, and a couple of alligator clips.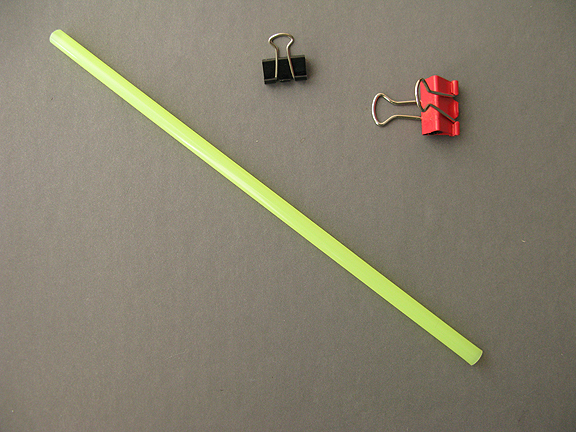 Fold and clip one end of the straw closed, and fill the straw with your shot.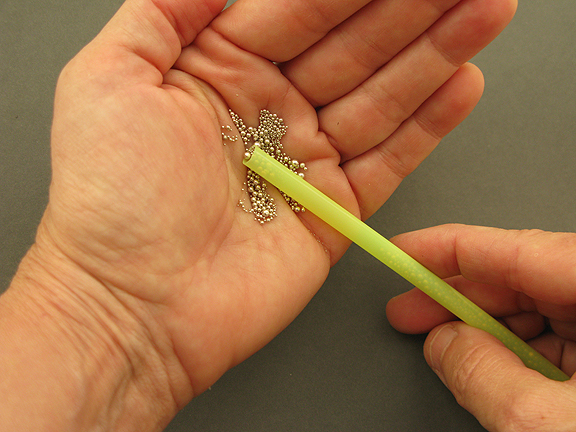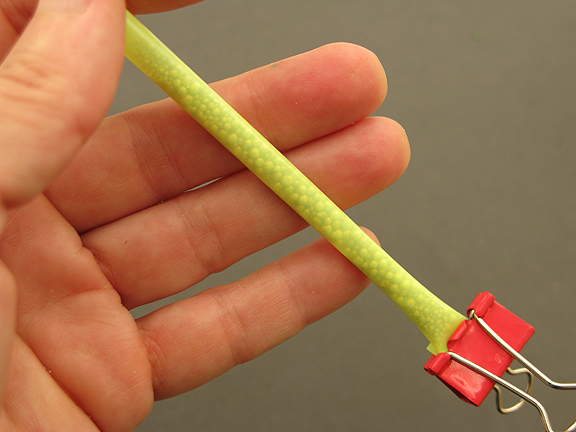 Trim the straw with scissors, leaving an inch or two of head-room, and clip the top closed.
Notice the shot loads into the straw mixed randomly.
I remember in science class in 6th grade we added water to a jar of soil and shook it, and watched as the particles graded themselves into layers. I guessed that the same effect might happen with granules, and it does.
I give it a couple of shakes, and then roll it vigorously between my palms.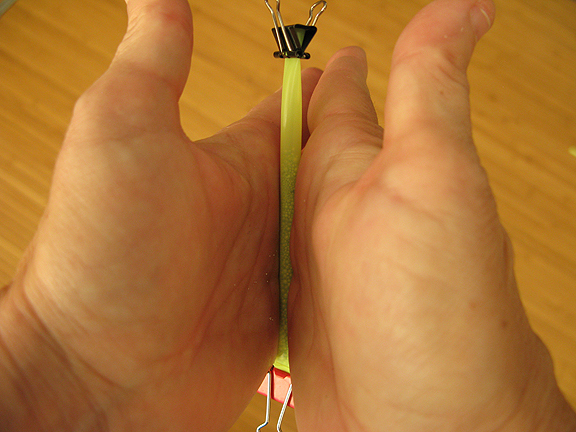 As it sorts itself, it will pack tighter and tighter, so I stop and pinch it to loosen it, and roll it some more. After about five or ten minutes, the granules will become sorted from large to small. The stacking pattern will look a little like corn on the cob.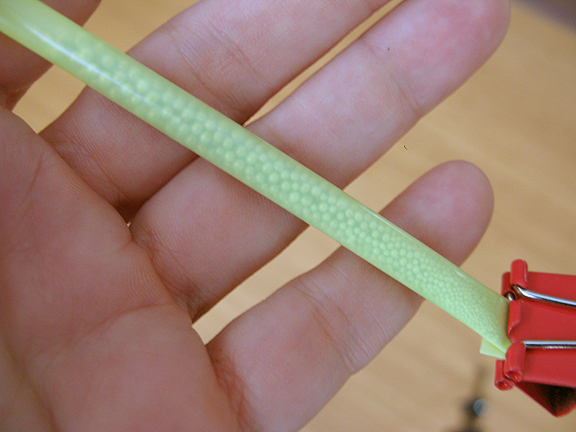 Now it is just a matter of pinching the straw at the top of the column of shot. This forces upward a few granules that are the same size, and stops the rest from rolling out. Pour these little balls in the first of a series of little cups, and they will be your largest shot. Pinch again, right at the top, and another dozen granules will be squeezed away from the column. Pour those into the next little cup.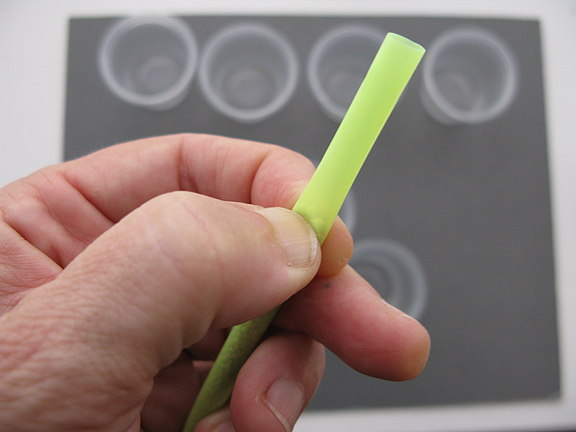 Work your way down the straw, squeezing and pouring, until your reach the bottom. The last batch are dust-like , and too small to use anyway, unless you fuse like an Etruscan.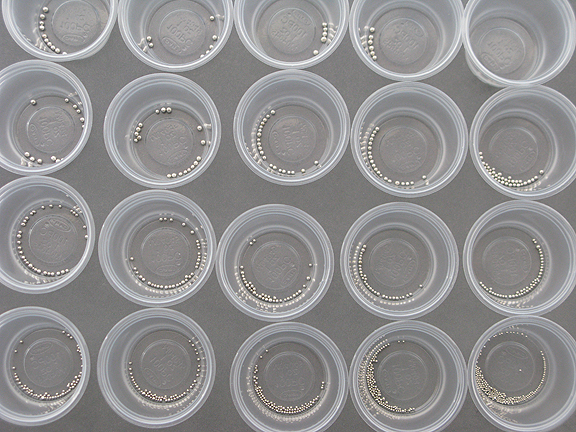 Now you have lots of sizes. There will be a few 'odd balls', that you can move to a better matching size with a pair of tweezers. This way of sorting isn't as perfect as using the diamond sieve, but it is much easier, faster and cheaper. The resulting sets of granules will need a little correction, but are amazingly well matched given the simplicity of the method.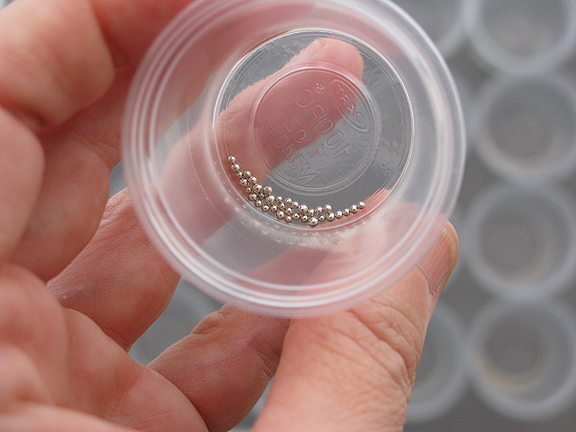 Now you can start the fun part of granulation, making the jewels. These are enameled earrings I made this week for the Betty McKim Earring Challenge.