Now that I am practically working at the bench full time; oh what fun. I only have to clean the house, do laundry, mow the grass, repair all things broken, make meals in my other hours. I am exploring multiple areas at the same time. Debbie came in the shop a couple weeks ago and looked in the gem trays and selected several stones (still have some to go) and asked for some ear rings and a ring. So the lab created Emerald stones, the Apatite ovals and the Zandrite (lab created Alexandrite) became pairs of ear rings. The blue moon trillion became a ring. I hate setting trillion stones as there is no opposite prong to balance the pressure in the setting.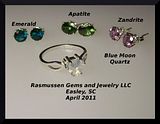 She also bought me some gemstone chips to make into various pieces of jewelry. I have finished three necklaces and have many many many more chips to go. So here are an 18" Amethyst, a 20" Aquamarine and a 24" Fire Opal necklace.


Just click on the thumbnail images and you can see the large image.
John

66 year old retired educator (geology and emergency medical care) and practicing paramedic. I came back to my passion, rocks and minerals, then making gemstones and jewelry with them.
Latest posts by John Rasmussen (see all)