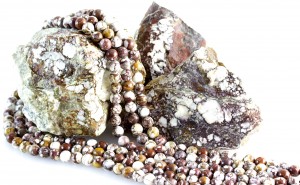 Wild Horse is a stone that is found in Arizona. It is made up of two mineral components,namely magnesite and hematite. The term 'Wild Horse' is just a nickname that has been given to this stone, its geological name is magnesite. This stone hasn't been in the gemstone and jewelry market for a long time, it was discovered in the mid 90s in the southern region of Arizona.
Wild Horse is a beautiful gemstone. Its beauty makes it highly sought after . Its color cuts across various shades of chocolate with white plumes and in some cases black,red & yellow inclusions. It is much harder compared to other magnesite gemstones like ivoryite and howlite. Wild horse has been regarded highly by the American Indians for a long time, they have used it for jewelry .
The rough wild horse is processed into cabochons which are used in jewelry making. Cabochons refer to the polished but unfaceted versions of gemstones. Wild horse has a Mohs hardness of 4. It is polished into cabochons and also cut into beads and carved to make various items
The cabochons are available in various shapes ranging from circular to spherical to rectangular to triangular and other shapes like conical shape, trapezoidal and hexagon. The thickness of the cabochons also varies. Most cabochons measure 5mm and above in thickness.
Wild horse cabochons are used in making various kinds of jewelry. These include pendants, rings, necklaces, studs, earrings, bracelets, chains, and even watches. The cabochons may be used alone in a given jewelry or they may be combined with other materials. They are usually combined with silver and used in items like pendants, bracelets, and necklaces. Wild horse and silver form quite a perfect pair.
Wild Horse jewelry is a great gift to give to someone special or even to buy for yourself. The chocolate-white gemstone is magically beautiful, rare, and precious.
Latest posts by rincontrading (see all)