What's better than a REALLY nice piece of crafted and well-designed jewelry?? Well, I guess the packaging it gets put in. If any at all. Most or a lot of jewelry pieces don't – but, if it is going to someone specifically, is part of a business, a wedding ring, or you have a jewelry business, chances are it might meet some fancy wrap. Recently we did a short post about jewelry packaging, and since we are way behind on posting on Ganoksin, we figured we'd post about it here. Hopefully, we'll add more info. Obviously, some jewelry art is just above and beyond any type of packaging. But, the RIGHT custom packaging might give it that extra push of making it even more special. In truth, if you are in business, and you deal with quantities or a whole jewelry line regularly, the proper thing to do is make sure you DESIGN the RIGHT jewelry packaging to FIT your business and your LINE. Part of the way to do this is through BRANDING. Good packaging design and going back a big step, good logo/branding design is essential to a jewelry business. But that is a later topic. Often we are asked if we sell jewelry packaging. We don't. There are many who do or just sell packaging exclusively. What we did find out though is that it is possible to MAKE your OWN if you have some time for those one-of-a-kind jewelry pieces, or even a series of them. We were actually quite amazed at some of the ideas and different options.
So without further a dew, here are some packaging ideas for homemade jewelry:
Warning: If your not looking to get a bit sidetracked and have some fun – don't click on this. 🙂
There are a lot of really great little packaging ideas here and even this is enough to keep you busy for a bit.
Like this paper pyramid gift box. Or these homemade gift bags.
2. How about these homemade Chinese Take Out boxes for an idea?
Learn how to make your own take out box for jewelry packaging even with a downloadable PDF template to help out.
3. Use just pre-made simple take out boxes already cut out and made – Then decorate yourself.
Take out boxes are great because they are easy to obtain, pre made, easy to keep around, and easy to customize. Just give them a little love.
4. Give these custom triangle boxes a go.
Easy enough, right?
Great for necklaces and bracelets and easy to make. Just print out the template.
6. Make your Own Jewelry Pillow Boxes:
Learn how at jewelrytutorialhq with this simple step-by-step video.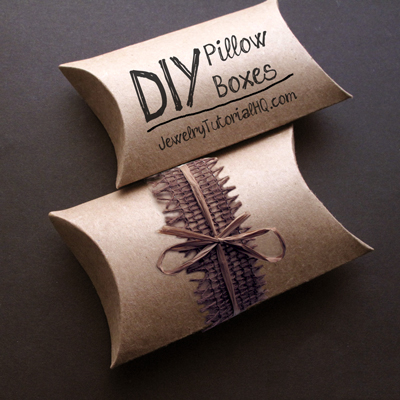 Whatever you decide to do, the point is that there are many resources to create your own custom homemade jewelry making packaging. Even if you don't make it yourself, you can find designs and great packaging ideas to design, take to a printer, make your jewelry packaging very much your own. The key to creating packaging and branding to a jewelry line is to refine it until in it's simplest form that truly identifies you. [which most often sounds easy but…. sometimes not so much.]
While your at it, also, try this tutorial on how to make your own Art Show poster/sign displays.
Looking for more homemade custom Jewelry Packaging Ideas? Especially with custom tags and labels? Go here. 🙂
some content from this came from our original post: http://cgmfindings.com/cgm/content/jewelry-making-diy-packaging-ideas
Latest posts by CGM Findings (see all)
Latest posts by CGM Findings (see all)