The World's Biggest Treasure Hunt will be
Jan. 31 through Feb. 15, 2015
At the start of every year, the #tucsongemshow happens all across town at more than 40 sites, from giant halls to hotels and sprawling camps of roadside exhibit tents with mineral trading, buying, and bargains. The weather is cold at night in the evening but hot during the day. Being prepared for the massive show with so many vendors and so much ground to cover is overwhelming, especially for the first time.
Here are helpful tips and Information that will help you at the
Tucson Gem Show even if you've been before:
" If you are a buying wholesale, bring a few copies of your state resale license (sellers permit)
Bring extra business cards since dealers will ask for them to make your order ready or hold it for you.
It is good idea to bring some stickers with your company name, address and a phone number
printed on them so sellers can put them on your invoice (you can even have your resale
certificate number printed on the stickers ). It will save a lot of your and seller's time and
dealers will really appreciate it.
Bring a small scale and calculator with you. You can use it for checking the weight and proximate price of some stones or jewelry if it is sold by weight – you will not have to wait for the salesperson and ask them to check each piece for you.
Write down your UPS or FedEx account number if you are planning to ship some of your
purchases right from the #tucsongemshow (some major shows have shipping companies in
their buildings during the Gem Show period).
Call your credit card company before you are going to the show and let them know that you are
planning to make some buying so they will not "freeze" your account later for your security.
This will help you to avoid calling your bank from the show and spending time authorizing
transactions with your bank. "
" I use a small rolling suitcase for all my gem show purchases. I used to use a large shoulder satchel, but that became too unwieldy and caused too much back pain.
It took some work to find the right rolling bag but I finally did.
The most important feature of my rolling suitcase is that it has a top opening, so that I can unzip the top and place my purchases in it with the bag still standing upright while I'm at the gem show. This makes it easier to deal with, given the crowds. I also bring along hand wipes or unscented baby wipes to clean up every once in a while. It helps me get through a long day. "
" If you have a favorite online supplier, or vendor, that might be at the #tucsongemshow, you can find out in advance whether they will be at one of the shows.  It's a great chance to meet an online acquaintance face-to-face, and a great chance to see items up close that you have only seen on your computer.
I like to take a rolling backpack to hold my supplies and my purchases.  I used to carry a bag, but that is murder on your back after a while.  You may want to bring a small ruler, calipers, magnifying glass, loupe and calculator.  I also like to bring some ziptop bags, paper and pencil. You will also want to bring any item for which you are trying to find a matching or complementary color. You may think you will know it when you see it, but it's better to have the item with you. "
"It helps if you prioritize by what importance what your in need to shop for. Whether you are looking for mineral samples, rough stones, gemstone beads, polished cabochons, books, tools, workshops, jewelry findings like jewelry wire or chain, or jewelry supplies for your business."
Ride the Gem Ride or Sun Link to certain Shows:
Sun Link Connects you to the Gem, Mineral  & Fossil Showcase and Beyond
Ride Sun Link to explore Tucson's treasures during the 2015 Gem, Mineral & Fossil Showcase. Sun Link connects you to multiple gem show venues plus restaurants, shops, and entertainment from five unique districts on the streetcar corridor: The University of Arizona, Main Gate Square, 4th Avenue, Downtown and Mercado San Agustin . Click herefor more information on how to ride.
Unlimited Rides: 7 Days for $15
It's a gem of a transit package – a 7-Day SunGO pass for just $15.  It's a limited time offer for unlimited rides on Sun Link, Sun Tran and select Sun Shuttle routes.  Available online or at select locations.
Link to New Gem Ride Line & Information:
Ride the MS Transportation Lines Going to all Shows, including the Holidome Show: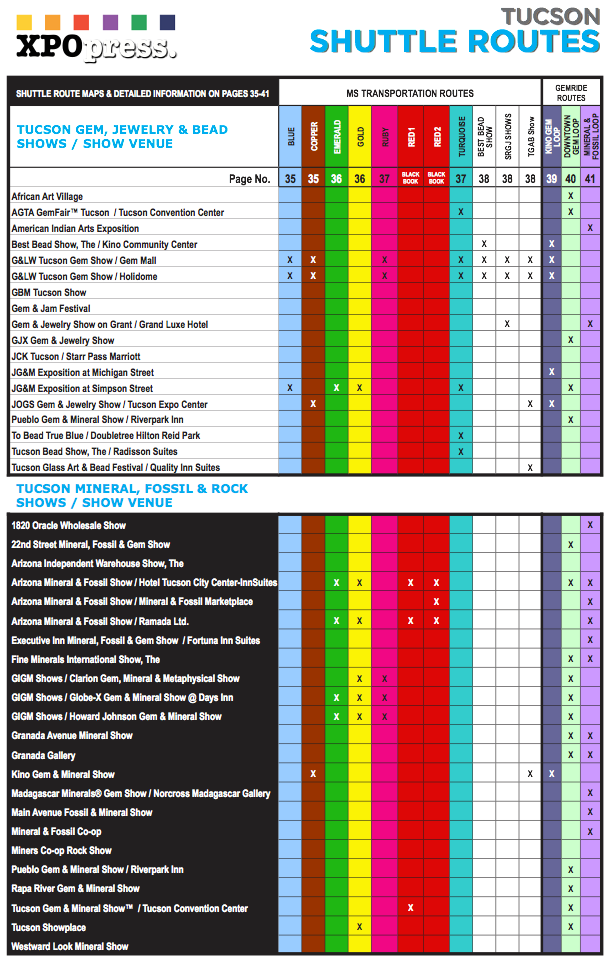 Latest posts by CGM Findings (see all)
Latest posts by CGM Findings (see all)