Back in the early 80's, I remember my dad taking in repairs of eyeglasses, cigarette lighters, money clips, watch bands, and really anything made of precious metals.  A jewelry store was much more than just jewelry.   I don't believe he ever made a pair of glasses, but he did repair and adjust them quite a bit, the frames that is, not the lenses.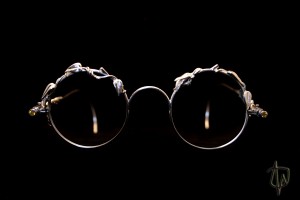 I came to this because there just weren't any one set of frames that I was happy with out of the thousands that my optometrist had in stock.  I had in mind a pair of classic round lenses, but I just couldn't find much in the way of classic anymore.  So, I just had to take matters into my own hands.
These are the fourth pair of glasses made, but the first pair to be what I would call complete, or lens ready.  These aren't MY new glasses, but it does have aspects that I was looking for in a pair of frames.
I wanted them to have a large enough lens that you don't see the edges of the frame in my line of vision, with enough room to let my eyes dart around without having to move my head to see the rear-view mirror.  But not so large that it would give the 80's Sally Jesse Raphael a run for the money.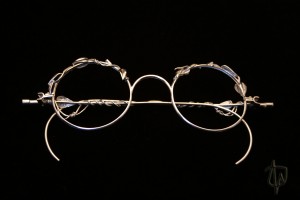 I also do not like nose pads.  I wanted the weight of the lenses to be better distributed across the bridge of my nose, not hitting a preasure point to the side that makes me nose raw and painful by the end of the day.
I also wanted the ear wires to wrap around my ears somewhat, so that they just don't rest on one spot on top of my ears all day.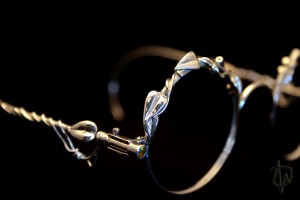 These are sterling silver, with faceted citrines tube-set into the temple pieces.  I worked in some of my floral, woodsy vines onto the frames and arms.  These are all hand forged, fabricated.
The biggest challenges were figuring out how to make the channel wire that holds the lenses, and the engineering of the hinges.  I will have to post a tutorial on how to pull this wire, and it was the help of a Facebook group called Eyeglasses by Jewellers that I found the best way to do this.  I had tried a few ways unsuccessfully, but pulling a strip through a half-round drawplate like you would a tube through a tube drawplate was the best technique.
The hinges were a bit trickier, as there is so much torque placed on the hinge and they have to stop the arms from folding all of the way forward.  It has to be a tough hinge, strong, but light.  I'm not sure what to call this hinge, but the tube-setting works with the forged half-round stop to give a snap in place when they are fully opened and hold them there.  But, with just a little extra tug, they easily close, with enough room for even the thickest of lenses set in them.
A lessor obstacle was making them very hard, to prevent them from easily bending, denting, or warping from wear.  But, the wrap-around ear-wires had to be sort of soft enough to allow the wearer to bend them to fit in comfort.  They will harden in time, but initially the metal needs to be annealed to make fitting to comfort an easy task.  So, I hardened them in the kiln, and annealed the wires with a torch, but not to a full dead soft metal, just enough to make the thinner parts softer.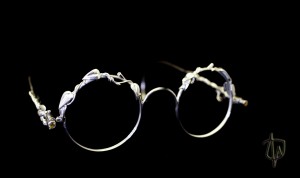 I kept reading that the round lenses have a better field of view than the oval or rectangular lenses, so this is why I was looking for round lenses in the beginning.  I have a few more designs that will play with the shape of the lenses, but I want to be able to offer the round ones who just prefer to have a better range of view without having to move your head to see and focus on what is in front of you.  It's not easy finding a pair of classic round frames these days.
Ok, so I'm always looking for feddback and areas of improvement.  What do you think?
Let me know that you're out there 🙂

Latest posts by michaeljohnson (see all)