About Us
Michael Johnson
of Cosmic Folklore Studios
My dad decided that at the age of 8 I was old enough to start helping out around his jewelry store. He was a master jeweler who had a jewelry repair shop in the old downtown area, and later a retail store in the better strip mall area of our small town, and then latter he converted an old building near the house into a jewelry production shop. He trained me to work as free labor up until I was 18 and able to escape off to college sworn to find something more creative to do for a living and never to return to the confines of the jewelry biz.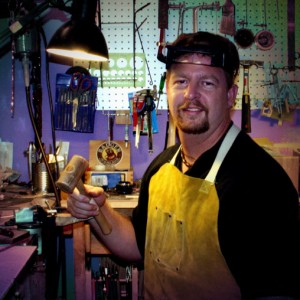 I started off cleaning up casted trees of rings and doodads, polishing, sizing rings and chains, and then setting stones. I could not see any creativity in making rings and setting to hold stones. These were the 80's and decadence and gluttony was rule. As the middle class divided into rich and poor, my father rode the rich up into their spiral. I remember many nugget pendants and groovy medallions (the 70's lasted much longer here in Alabama). Jewelry was just work. The only creativity was figuring out how to make the customer's wishes come true.
As a young fellow, my Star Trekky father would occasionally send me off to Space camp and fill my head with notions of one day piloting space craft to and from planets, making way for new colonies. But, then Regan killed off the space program in lieu of plans to put missiles in space. The economy bottomed out, and I wasn't sure how I was going to get to outer space to escape the jewelry industry.
In college, I struggled with the idea of pre-seminary, but I liked girls way too much to be a priest. So, I went where the girls were, art classes. And, I did very well, with girls and art. I used my passions for space as a means of expression in my artwork, and that carried me off to grad school. I even taught at the University of Alabama for a few years. But, kids came along and a wife. Then it was just me and my two girls. So, I went into public education teaching art and graphic Design, benefits and summers off to spend quality time with my two full-time daughters.
Then I met my Bead Goddess who encouraged me to work in stones and metal. Actually, it was her passion for lampworking that drew me into that direction. Fire, fire, fire, I wanted to melt stuff, he he. Now, it's been a few years of making jewelry, and I look around and wonder how this happened. But, at least I came to it on my terms. No repairs, no custom work; I just make what I want, expressing my own ideas in metal and stone.
My work is called Cosmic Folklore Studios, because my daughters and I love to look for meanings in old stories. Old stories and futuristic imagery are entwined in our product. And, we sometimes we add new elements, such as ceramics, ironwork, woodwork, and textiles into the mix. And, they even add their own creativity to the mix. We have made many pieces where they have done the initial drawings, and I just sort of guide them through the process. At the moment they are 9 and 11 years old, but I try my best to allow them to be creative, without killing their enthusiasm. We all work together to keep our ideas young and wise.
So, I have come full circle, but I still feel like I am still learning new things. I need the excitement of exploration to keep me moving forward. But, sometimes moving forward means looking to the past. Ancient techniques impress me much more than new high tech equipment. We keep tools simple, and we turn to ancient ancestors for finding new ways to do new things. I do not consider myself a jeweler. Jewelers (in my mind) are people who make settings for stones. I like to think of myself as an artist. The imagery and idea is way more important than the value of the rocks or metals. Gold, silver, copper, and the plethora of stones are all just colors in my crayon box. And, the objective is to keep telling stories with our work.
I hope you enjoy my work.
Latest posts by michaeljohnson (see all)