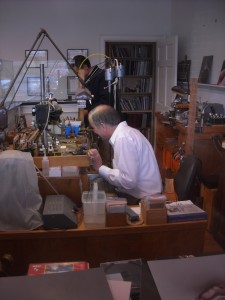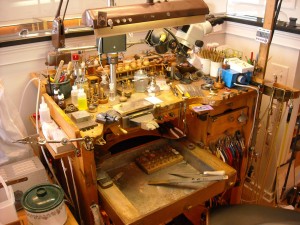 A couple of weeks ago I wrote about my friend and fellow goldsmith, Mason Cutchin and his store in Chapel Hill NC, J Mason Custom Jeweler.  Unfortunately I wasn't able to post any pictures of his shop or his bench.  I went back to visit with him again on the 12th of March.   This time, I was able to take a couple of short videos at his shop.  I invited Larry Heyda, a sculptor and goldsmith, who lives nearby, to join us for lunch and gave him a little tour of Mason's shop and specifically his amazing bench.
While Mason does have a couple of showcases in the shop, as the name of his store indicates, his primary work is creating custom jewels.  Mason, who opened his shop in 2006, breaks up the front of the store between his workspace, which takes up about a third of the space, and the showcases and open space which make up the rest.  He has room in the back of his shop for the rest of his manufacturing equipment and business accouterments.
To really understand Mason and what he's accomplished with his bench, you have to look closely at the photos of the work that encircle his shop.  More precisely you have to look behind them.  Behind the photos, mounted along the molding that supports them is a working model railroad complete with engine, cars and caboose.  With a flip of a hidden switch at his bench the train begins it's trip along the 20 foot track.
This kind of attention to detail, electronic alchemy, ingenuity and whimsy enigmatically combines with his desire to streamline and save time.  He will routinely admit, to the point of rationalization perhaps, that spending an hour creating a custom feature that will save him 5 minutes of extra labor on a repeatable task will, over the years, improve his ergonomics and his bottom line.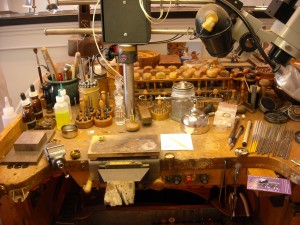 An example of this is evident when he moves his microscope to it's working position.  When not in use, the microscope is rotated counterclockwise.  In this position he has better access to the back of his bench and more headroom.  Move the microscope back into working position and a small light automatically comes on to illuminate the bench pin.  No need to click an extra switch or leave the light on when not needed.  It's equal parts convenience, economy and theatrics.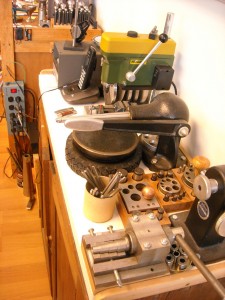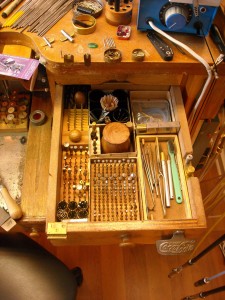 Yet, he's not averse to using found objects when they make useful tools.  You can clearly see an example if you take an inventory of the tools atop the cabinet that sits behind him.  His use of an old lawn mower wheel for a pitch bowl support is just one indication.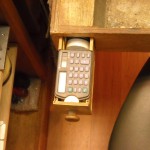 In addition to his little tricks, you'll find hidden drawers that house calculators, findings tins and miscellaneous tools, switches that allow a single foot pedal to work on multiple motors, a torch and flexshaft organizer that virtually eliminates tangled hoses or burnt flexshafts and trays of tools that appear and disappear from beneath a catch drawer or some other unexpected space.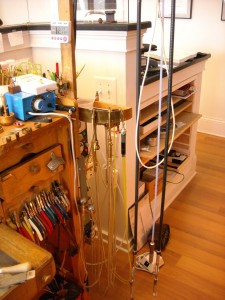 Mason's mind seemingly swims with these types of electronic and mechanical innovations.  These creative fantasies aren't exclusive to his bench.  Given the opportunity, he will gladly design and create jewels that reflect this same spirit.
You don't often find people like Mason; Rooted in tradition; a mechanical and creative wizard who isn't simply out to make a quick buck; but also not a flaky, artsy flash in the pan.  It takes a while, and a bit of single-minded dedication, to get where he is.
Finally, I hope you will enjoy these two videos I took while I was visiting.  It took some schmoozing and a little bit of subterfuge to get them.   Keep an eye out in the second video for the shop's mascot, Karl (if it's not sacrilegious to give master Faberge such a moniker), you can see that his arm has been motorized and beckons passersby to come in.  I've not seen them, but Mason has displays similar to this that he puts up seasonally.  The difficulty is that during the seasons that these displays are up, I'm usually busy creating masterpieces for my own clients.  Enjoy!  [youtube]http://www.youtube.com/watch?v=edZgt7OPnBM[/youtube][youtube]http://www.youtube.com/watch?v=E3-rdO7dpUM[/youtube]
{ 4 comments }
Latest posts by larryseiger (see all)