SEED POTTERY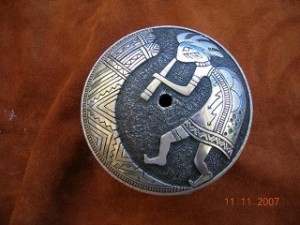 I enjoy creating southwest jewelry but my real joy is creating my sterling pottery.
This seed pot is approximately 3.5 inches in diameter.  The model was turned from Ferris Blue Carving Wax in two parts.
The piece was cast in around 25 ounces of sterling silver.
There is a paper in Orchids Tips From the Jewelers bench that illustrates the process of turning wax.
http://www.userblogs.ganoksin.com/borisat/nenam/simple-wax-turning.htm
The figure on the top of the pottery is a humpback flute player.  To the Hopi Indians of Arizona he is an important being.  He plays warm healing music with his flute and carries the seeds of all things in the hump of his back.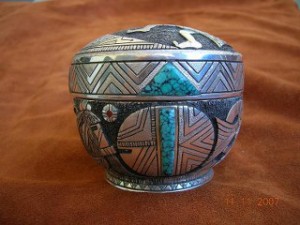 The symbols along the band of the pottery represent the sign for water.  The left half circle next to the turquoise represents the sun and the right half circle is water.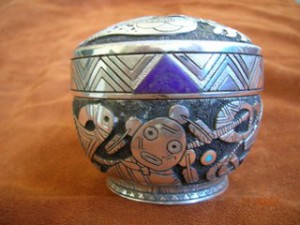 This is the mud head Kachina.  He is a clown.
The stone is Lapis.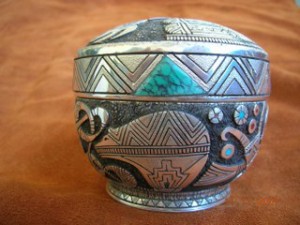 This is the bear symbol.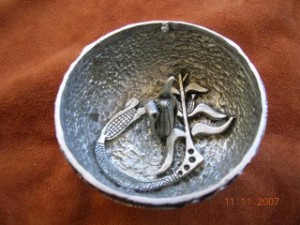 This is the inside of the bottom of the pottery.  It shows the corn symbol with an ear of corn standing vertically.
The texture was created by using a small round burr in a cable driven hand piece.  The burr is bounced into the wax.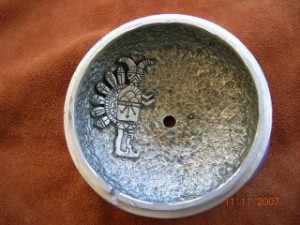 This design taken from a rock glyph that was dated around 1200 is a shamam.
The design on the outside of the pottery needs to be keyed so the turquoise triangle lines up with the band of turquoise.  The key and groove can be seen in the above tow pictures.
If anyone wants information on how to turn was contact me.
leessilver@cox.net
Lee Epperson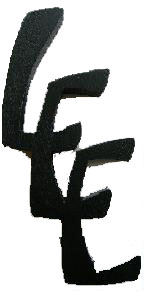 Latest posts by leessilver (see all)