Ancient Goldsmiths
The metal of choice for a goldsmith is gold.  It is not to say that other metals are not used from time to time, but gold plays the dominant role in the goldsmithing.  The earliest known gold artifacts are from a burial site known as Varna Necropolis, Bulgaria.  They were dated to 5-th millennia B.C.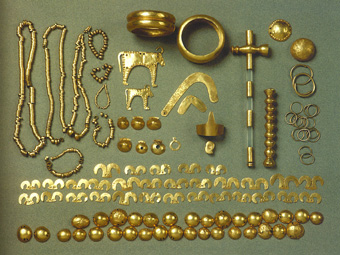 I was able to locate photo of the artifacts on the Internet.  I wish I could give proper credit to whoever took the photo, but it was put on the Internet without any identification.  If someone knows the name of the photographer, I would gladly update this text with the proper attribution.
The technical sophistication, displayed by these artifacts, is absolutely amazing.  Take a look at hollow bangle.  What a magnificent example of anticlastic raising.  Even in modern shop, it is not a trivial task to create bangle like it.  One cannot help but wonder how could ancient goldsmiths know so much about working with gold.
Let's look at the task of creating such bangle in 5-th millennia B.C.  It is not likely that Hoover and Strong were around at that time, so a goldsmith had to procure his own gold.  Since hammering gold into shape requires metal uniformity, the gold found in natural state had to be smelted.  The gold ingot so obtained, was converted into sheet by hammering it.  Pure gold does not require annealing, but gold alloy does.  It is doubtful that ancient goldsmiths could refine gold to the degree of purity where annealing would be unnecessary, so they had to know how to anneal the gold to remove the work hardening.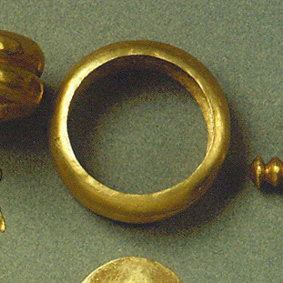 After gold sheet was hammered out, it was cut to required length and width, and soldered to create a hoop.  While act of cutting is a simple process in the modern shop, it was far from simple in those times.  Soldering was probably done on bed of coals, which was quite a feat in itself.  Use of solder implied knowledge of alloys and varying melting points depending on alloy composition.  This is almost too much to believe that such knowledge could exist 7000 years ago.  But the shape of the bangle is the most remarkable feature of all.  To get to the required shape it is necessary to compress metal at the edges to compensate for the difference in length along the bangle profile.  Mathematically speaking, the surface of the bangle mimics the surface of a toroid.  If we measure the circumference of the bangle in the highest point of it's convex, and compare to the circumference at the edges, there would be a significant difference in length.  A goldsmith must be keenly aware of that difference and compensate for it by well planned and well placed strikes of a hammer.
Could the ancient goldsmiths understood toroid shape to such a degree that they could manipulate an annulus constructed of flat metal strip to assume toroidal shape.  As improbable as it is, it is hard not to come to that conclusion.
Let's forward the tape 7000 years and look at modern jewellery shop.  It is highly unlikely to find a modern goldsmith swinging a hammer at a gold ingot.  Casting replaced hand fabrication. Wax carving made the skill of shaping gold obsolete.  Goldsmith is no longer required to come up with ingenuous solutions to difficult soldering problems, since lasers can produce tiny welds with impunity.
We have discarded the knowledge bequeathed to us by the Ancient Goldsmiths for the sake of convenience.  Except for the very few, the term goldsmith has lost it's meaning and gold worker is far more appropriate.  Some call it a progress, but there are others who disagree.
Out of reservoir of knowledge, accumulated by Ancient Goldsmiths, disciplines like Metallurgy, Chemistry, Applied Mathematics, and many others were born.  An ancient goldsmith, toiling over his forge, was the principal seed out of which our civilization has grown.
The role of modern goldsmith if far more humble, and the golden age of goldsmithing has past.  Going forward, I wonder.  What is the function of a goldsmith in the 21-rst century?  Are we ever going to assume the role of pioneers of Science and Technology like the Ancient Goldsmiths did, instead of been just users of inventions by others?  What is the function of Jewellery in modern society?  I would love to know your thoughts on the subject.
Leonid Surpin
Latest posts by leonidsurpin (see all)