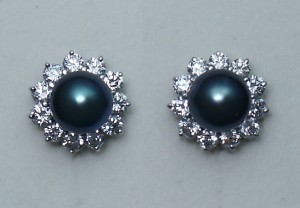 I mentioned in an Orchid post that custom diamond total weights with the laser are a money maker.  A case in point.
Each earring is made of 35 little bits of wire, tubing and  sheet lasered together. The 7.5mm pearl was the customer's.  The circle of five pointers is domed and airlined, although not visible in this shot. I have torched this type of thing  before but  the laser makes it fun. In fact I hardly use the torch much at all anymore. No irregular solder reflections, no firescale, no heartache on the last joint!
 This pic has been photoshopped a little to compensate for my low photography skill, still working on that. Backgrounds and diamonds are difficult for me.
Latest posts by neilthejeweler (see all)