Hello Ganoksin readers, and welcome to NSCNC's new blog.
We make 5-axis CNC milling machines, a true new generation of technology. Our mills are made just for jewellers to help them achieve limitless milling. These mills are for any designer who wants to maintain only the highest standards.
Our aim on this blog is to engage with you, get your feedback, and give you insight into the best technology available for wax modelling. We'll be posting updates and new creations regularly, so keep checking back to see what's new.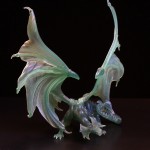 This dragon was designed by Raims, and cut on a MIRAcle mill. It is an example of the amazing possibilities that are opened up by our 5-axis mill.
I work for NSCNC Manufacturing, we make a new generation of CNC mills just for the jewelry industry. Our goal is to give jewelers the best tools to create their best work. Our mills are made to last, and to enable jewelers to bring any design to life.
Latest posts by Jennifer Robinson (see all)