This design sure to make any woman speechless when the big question is popped. The precision modelling makes certain a man has the perfect ring for the perfect woman.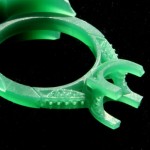 This ring was designed and milled all in one piece, with no supports other than the stock piece. It's nearly ready for casting as is, making the finishing work of any jeweler a breeze.
I work for NSCNC Manufacturing, we make a new generation of CNC mills just for the jewelry industry. Our goal is to give jewelers the best tools to create their best work. Our mills are made to last, and to enable jewelers to bring any design to life.
Latest posts by Jennifer Robinson (see all)