I noticed its been several months since last posting in the blog-o-sphere…well…Halloween is just around the corner and I have a cool belt buckle that has a skull, it just sort of makes sense…
Buckles are one of those things every man should have…and most have at least one.  From my perspective, dealing in the men's market, its like a watch, it should be super high quality, last a lifetime, and be pretty bullet proof.  Enter my buckles.  The over all design and shape was an 8 month endeavor to achieve something elegant, yet extremely practical.  Made from two separate pieces of stainless (or titanium) that are machined and welded together to form the unit.  The canvas remains the same on all the buckles I do, with a 3.5″ x 2″ palate to work on, It is a bit constricting, but like the materials themselves, give me a simple frame to do the work in.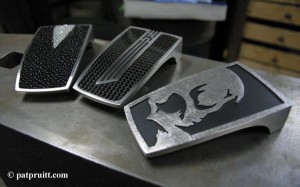 Left to Right: Stainless Steel with Stingray Leather, Titanium with Carbon Fiber, Titanium Skull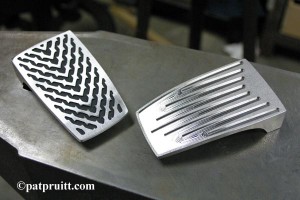 Left to Right: Stainless Steel with modified barb wire design, Stainless Steel with Streamline design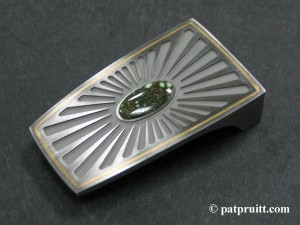 Titanium with 24K gold inlay and Damele Turquoise.
The last part of the puzzle was finding high quality leather belts to fit my buckles.  Since the attachment is a slot on the buckle in which the leather resided in, held in place with two set screws, I searched high and low, ironically, I found a company in Gallup, NM that produced these super thick solid leather belts (no two part glue together things here), so from time to time Ill make the trip to Gallup and pick some up.
Anyhoo….Ill be getting back to writing up some new how-to's in the future, just gotta get back to work on it.
Edit:  here is a photo of the belt insertion side…along with one that I totally messed up on, had to make another.  You can see the welding on the titanium and how much material is needed to be removed to achieve the final form.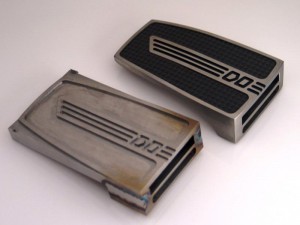 Hope you enjoy!
P@
Latest posts by patpruitt (see all)