"I find your lack of faith disturbing."
– Lord Vader, Star Wars Episode IV
Yes, I didn't have the faith with 3M on this one, but sometimes things just sort of work the way you want them too…Case in point, the 3M Radial Bristle Brush (wheel)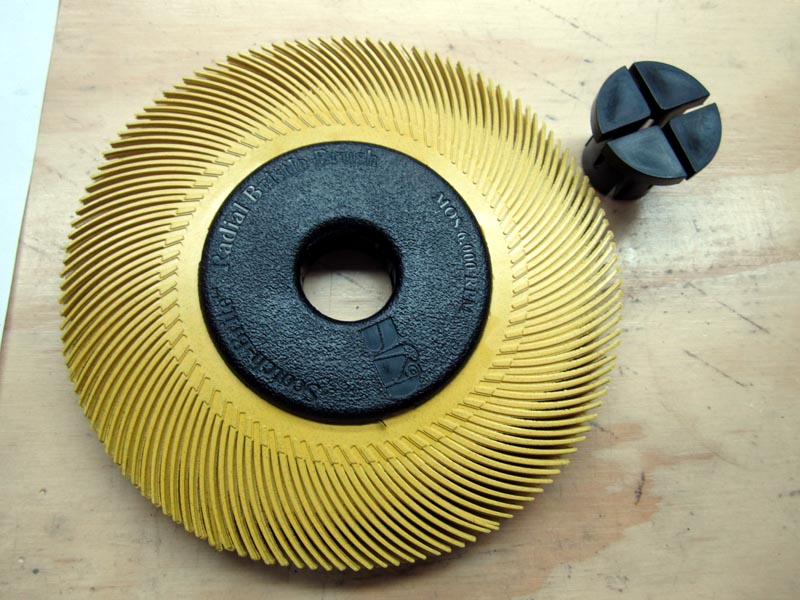 Part Numbers from Rio
332343 – 80 grit – 6″ wheel
332349 – 1″ tapered hub adapter)
I was pretty skeptical about using it for general deburring of stainless steel on some bracelets I was working on.  The reason for my doubts were from my experience with the tiny wheels you load up in your Foredom units.  Those didn't do anything for me, and were demolished pretty quickly when facing stainless.  The price for one(1) of these 6″ wheels is a lofty $50+, I was pretty hesitant to try one and see it fail.
Here is what I was starting with, fresh off the machining center, I needed to deburr and round over all the sharp corners for comfort.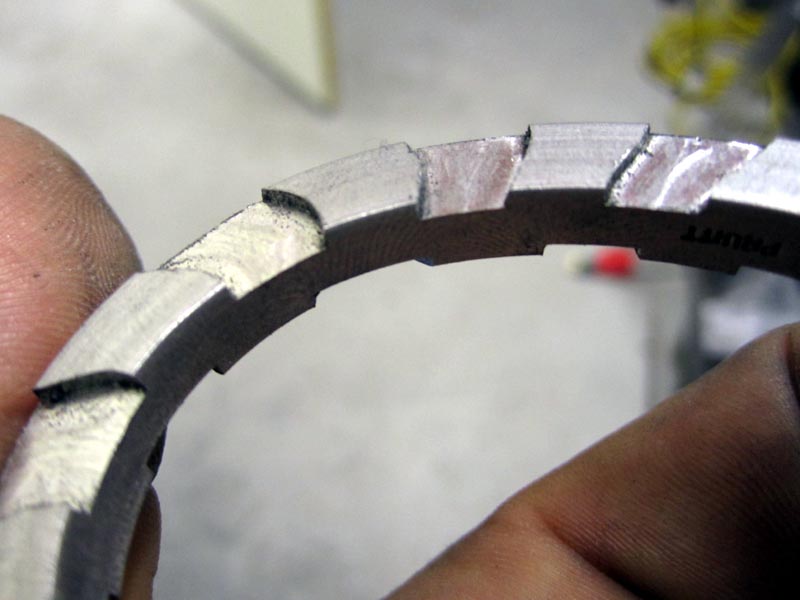 You can see how sharp these are, my operation up till now consisted of some painstaking file work with needle files, then hit on the buffing wheel with a yellow treated buff loaded with bobbing compound to knock the corners down…from there I did the finish work.
Well I gotta say I am impressed, the cutting action is smooth and pretty consistent.  The wheel is 7/16″ wide so it can fit in narrow-ish places, a wider face would be a bit better for me, but that is not an option, the magic happens with this wheel in spades.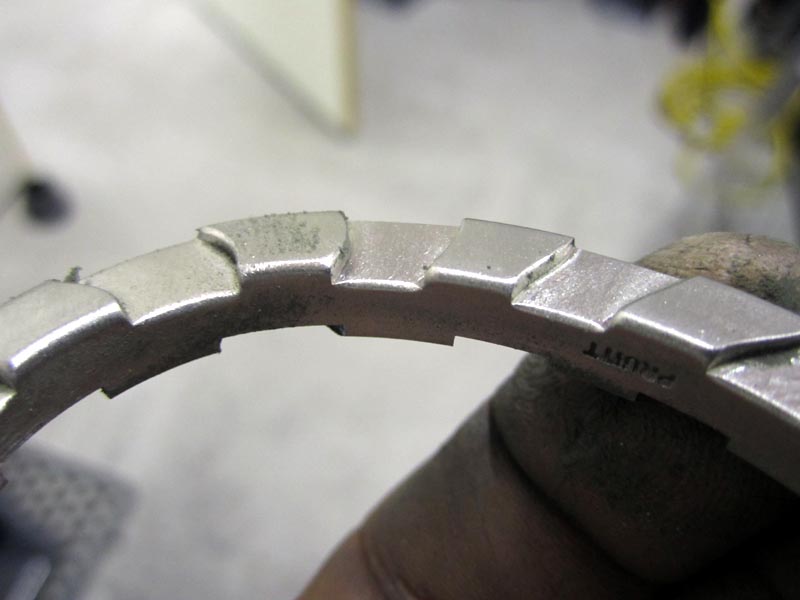 What took me about 30-45 minutes with the old method now takes me 5-10 minutes or so.  The cut is pretty controlled, heat generated is minimal, and the surface on the surrounded area is not molested like I thought it would be.  The de-burring and round over of the edge is pretty awesome.  Not to mention, I'm not getting all nasty and dirty from the bobbing compound.
I will note some cons with this wheel.
– The hub adapter takes a little bit of effort get fully seated on the tapered spindle.  It is trying to do two things, 1) Get seated on the taper, and 2) expand to hold the wheel in place.  Sometimes I found the adapter seated on the spindle, but not expanding to hold the wheel, you'll have to mess with this to get it right
– At 3600 RPM this sucker moves a lot of air around the polishing machine (I don't have a confined unit), so be prepared to have a lot of air moving around you.
– Unknown life span…I just got this and Im curious to see how long this wheel will last.
– Expensive, but for the price, it has already paid for itself in time savings and I feel Ill be using it more and more, so its really not that much of a con.
Hope this helps out some that is not a believer, Rio carries these in a variety of sizes and grits.
All the Best,
P@
Latest posts by patpruitt (see all)