Maybe something Orchid [Forum] members would consider? A monthly "Show & Tell" featuring the current birthstone(s). I'm not suggesting to post a gallery, just a photo or two with a brief description of how a piece was made. Include any tips or technical info you believe would be helpful or of interest. Would have had my opal post up sooner but it's taken awhile to arrange the Blog.
An October 'Opal' project: Look forward to seeing other people's work linked to Forum posts.
I did a couple sketches then hand carved waxes for the 4, side pieces & bail. All waxes were cast as individual elements. Carvings were hollowed prior to casting to reduce pendant weight. Stainless shot burnishing followed casting. (The opal bezel was Torch *welded closed to eliminate any solder seam that might appear when the side pieces were added.) Side pieces were backed and arranged around the opal bezel then all elements soldered together. Diamond bezels were set prior to being soldering on. The entire piece was satin finished then textured on front areas with a modified hammer tip that screws into my hammer hand piece. Outside engraving was done to add more texture and sparkle. Opal bezel had a roller coaster profile that followed the uneven opal height and added visual interest. (roller coaster effect not visible in this image) Bright cuts were added to all bezels. 18KY, 6.4 carat Australian opal, .65 ct. dia. t.w. Finished piece about 1 5/8 (42mm) high.

One of nicest opals I've worked with during my career. Currently I'm doing a couple more pendants with similar size opals for inventory.
*Welding (similar to fusing) thin gauge bezel material, as I did in this piece, is much easier using natural gas or propane (with oxygen) vs. acetylene which burns with too concentrated a central flame. As the owner of Paige Tools I use our multi-port Tips on a Meco for precision flame adjustment. Paige Tips are "icing-on-the-cake" so to speak allowing a quality Torch to correctly burn propane or natural gas and make soldering (even welding) almost as easy as 'pie.'
(Guess I like deserts!)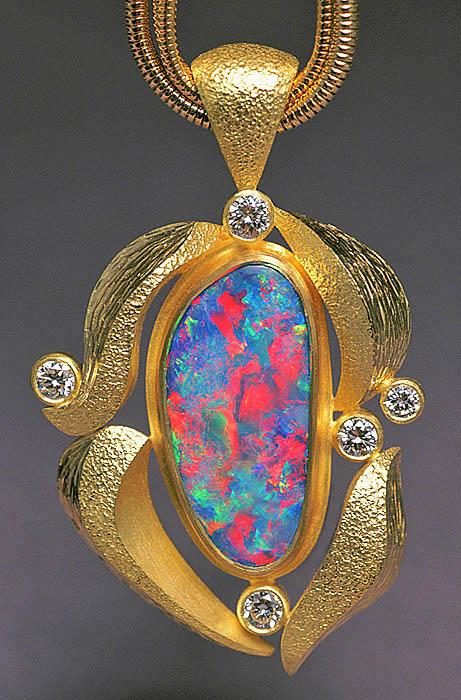 My jewelry career began in 1970. Following college and a tour in the Army I opened a small studio in Seattle, WA where I did jewelry repair for the public and wholesale trade. I was also taking classes with the G.I.A. studying diamonds, colored stones and gem identification.  Later, I moved to a new, Seattle location and opened a traditional jewelry store, Dick Paille Jewelry, inc. Working long hours 'at-the-bench,' in the store's manufacturing shop, managing employees, meeting with customers and what seemed like constant sales reps that stopped by made for long hours. Six day work weeks were typical. The 70's were demanding but rewarding years in my early career where I learned the 'business end' of the jewelry business as well as continued to hone my bench skills. Years later I sold the store to follow an inner call to design jewelry for a national market selling my work at trade shows, retail stores and Galleries around the country. In 1991 a new opportunity arose and I became involved in pearl farming in the Cook Islands and started the business, South Pacific Pearls International. Eventually my jewelry background merged with several non-jewelry interests. I formed a small film crew and we traveled to Australia to shoot a documentary on opal mining entitled "Fire Down Under: The Hunt For Australian Opal." This first project led to another documentary about pearl farming called "A Gift From Neptune: The Black Pearls Of Manihiki." The years I was traveling to the South Pacific were an exciting period in my career. In 2003 I started Pacific Digital Studio to continue my interest in multimedia marketing and to support the talks I give on pearls and other jewelry subjects. By 2008 I wanted to reduce my traveling and find new ways to share my career experiences with others. That desire led to starting a jewelry school: Learn2MakeJewelry which I operate today. In 2010 I formed a company: Paige Tools to manufacture various jewelry tools. Our Torch products are the first to launch. I'm also an avid fly fisherman, a life long amateur radio operator, wine lover and writer.
Latest posts by Richard Paille (see all)