October 1985 saw the very first Intergem being held in the tennis hall of the gemtown. Idar Oberstein had been a gem cutting centre for over 500 years already and a large gem- and jewelry industry had evolved. The area around the town was the source of nicely colored agates and the presence of the Idar bach (=creek) provided water power. This combination resulted in a gemcutting centre situated at the two townships of Idar and Oberstein.
Although the Portugese were the first to discover the gemstone deposits of Brazil during the 16th and 17th centuries it was the German immigrants that moved to Brasil in the second half of the 19th century that recognized the potential of the deposits. Stones were sent to Idar-Oberstein and it didn't take long for the German gem dealers to set-up offices in Brasil. A strong gem trading tradition between Idar and the gem bearing areas of Brasil was born which boosted economy in the German gem centre. This relation seems to be intact to this day judging by the large amount of Brazilian beryl and topaz that was displayed at the fair.
The celebration of 25 years of Intergem falls together with the joyful event of moving into a new home. The past 24 edition were held at the town's tennishall but this year the brand new fairgrounds just outside the Oberstein part of town provided the fair with a worthy home.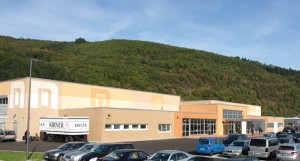 Intergem's young new manager Kai-Uwe Hille is proud as a peacock. It took the organisation 4 years to get the state and town to cough up the money (close to 8 million euros) and build the fair hall. The idea is to organize all kinds of events in the building. A gem industry technology fair called Gemtec will be held in May 2010 for the very first time. Further concerts, musicals and a variety of fairs and other venues will be able to find an excellent haven in the new building that has been built on the site of a former US army base.
Each and every exhibitor on fair that I interviewed said the very same thing: "we love the new hall, it makes a very special fair even more professional looking".
Latest posts by timspauwen (see all)