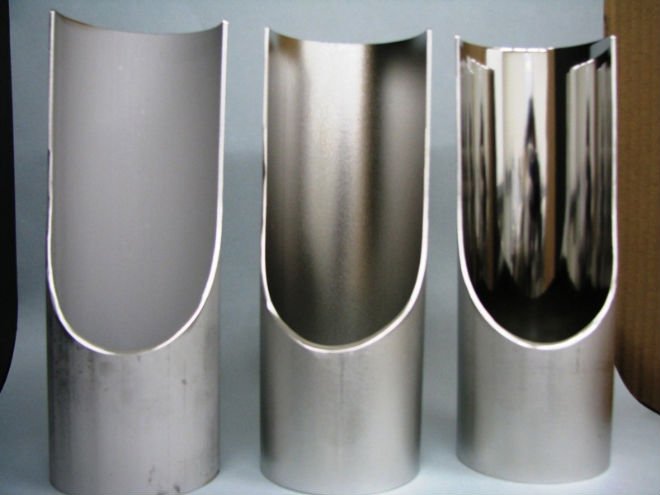 Ever since its discovery in 1912, stainless steel has been a staple in many industries. Doctors and nurses rely on it in sterile environments, and heating, ventilation and air conditioning workers and designers use it because its surface is nearly impervious to corrosion in the moist environment so prevalent in the HVAC industry. Other fairly wet professions, such as plumbing or farming, depend on it for the same reasons.
Stainless steel is resistant to rust because it forms a protective layer of exceptionally thin corrosion on the chromium that makes up at least 10.5 percent of any stainless steel alloy. Because chromium corrosion does not perpetuate itself like pure iron oxidation, it does not damage the underlying alloy. Rather, it protects the alloy from other, more destructive forms of oxidation. Stainless passivation is a method to reinforce this already naturally occurring process.
In order to conform to industry standards ASTM A967 and AMS 2700, passivated stainless steel must go through a series of tests in order to determine the efficacy of the passivation. Specification AMS 2700 covers all processes designed to dissolve possibly harmful materials from the surface of corrosion-resistant metals such as stainless steel. ASTM A967 governs the testing of such materials after full passivation in a nitric acid bath. Those tests include the following:
 Water Immersion
 High Humidity
 Salt Spray
 Copper Sulfate
 Potassium Ferricyanide–Nitric Acid
 Damp Cloth
Fully passivized stainless steel may be of two types: austenitic and martensitic. Austenitic stainless steel is softer than martensitic, about 400 Brinell, and nonmagnetic. Martensitic stainless steel, with its rapidly-quenched, crystalline construction, is much harder than austenitic stainless steel, about 700 Brinell, and is also magnetic. While some industries need enormous sheets or parts of stainless steel, others require minuscule, intricate structures. Extremely small parts require ultrasonic generators applied to the nitric acid bath in order to passivize all the tiny crevices in such parts.
Derek Hogue
Derek Hogue is a Milwaukee based expert in electroplating and metal finishing. There is nothing about the process of electroplating, passivating and powdercoating that he doesn't know. He also believes that if you are looking for metal finishing solutions, you should always work with the best. He recommends working with Artistic Plating if you are looking for such solutions. When he is not working, you can find him fishing with his friends.
Latest posts by Derek Hogue (see all)