I've now completed six months as the Studio Apprentice at the Society of Contemporary Craft, which means my time here is half over!  Steve, who is the out-going marketing director, asked me to write a little bit about what I think about this opportunity and what it means to me.
Leaving my job at  Costume Specialists (aka the Furry Factory) and moving to Pittsburgh to join SCC for a year is probably the craziest and best things I've ever done.  At first I was wary of what I'd do after this year was up- would I be able to find a job?  would I want to go back to school or move back to Columbus?  I was excited to be presented with this one-of-a-kind opportunity, but it being the first time SCC offered the position it, some aspects were a mystery.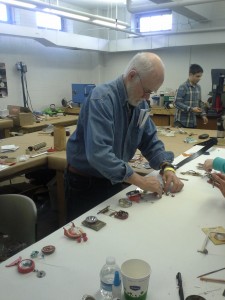 Robert Ebendorf setting out all the things we made during his workshop, Lost & Found: A Creative Expedition
I can confidently say that I'm in a better place then I was a year ago, physically and artistically.  Even if I didn't get to hang out with all the awesome instructors and visiting artists, I'd still get some crafty knowledge by way of osmosis from the excellent exhibitions and Store displays.  I can pick out attributes of my recent work and see where those ideas or experiment in materials came from.  It's not always conscious, but is certainly fun to discover the inspiration behind some of my processes.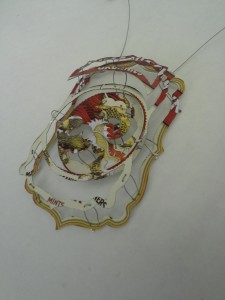 My piece from Melissa Cameron's workshop, Building Jewelry from Found Objects
I'll be sad to leave Contemporary Craft after the next 6 months is past, but at that time I'll be going on to grad school in Metals Design at East Carolina University.  I would have had to work my butt off over twice as hard to get into grad school if SCC hadn't wisked me away from costume land.  It's an excellent and supportive program- one I've had my eye on since leaving Kent State- and my time at SCC has put me in contact with many of their alumni who still have ties to the school and are still active in the metalsmithing and craft community.  Since I've been doing some workshop teaching at SCC, I look forward to using that experience and expanding it on the university level.  I think grad school is the right decision to follow up my apprenticeship, and will give me more skills to serve me in an arts profession.
Having been out of school for a while, my craft chops had definitely weakened.  I had been making things the whole time and had studio access, but I wasn't experiencing craft in the way I was when in school.  I wasn't thinking about what I was making, the value (or lack there-of) of materials or how one can communicate social or personnel issues through craft mediums.  Having dedicated studio time and being in such a craft friendly environment, I challenged myself with making a cohesive body of work while incorporating found or recycled materials.  I've been doing that here and there, but we just had two back to back found object jewelry workshops- lead by Robert Ebendorf (who I'll study with at East Carolina) and Melissa Cameron (Australian and Bridge 12 artist).  Bob was one of the very first jewelers to use found objects while Melissa builds on to the idea for a generation faced with global environmental issues.  I got to have dinner with Melissa last Saturday and we had a great conversation about jewelry, value of materials and all sorts of things.  Although both artists use unprecious and found materials, they have a vastly different approach.  I really want to think about these artists' work and mix their methods into my own.   I might as well have some fun in the studio from now until August when school starts!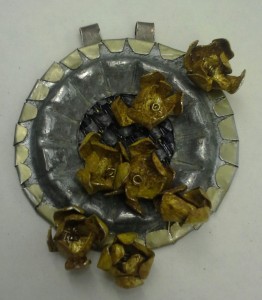 Pendant I made immediately after Robert Ebendorf's visit.
The Apprenticeship at Contemporary Craft has been a such a learning experience and by the time the fall semester rolls around I will be crazy prepared for grad school, in a way so few incoming MFA students get.  I really hope the next Studio Apprentice realizes what a great opportunity this is, puts in a lot of good man hours at SCC promoting an already stellar reputation, and uses it to take them to the next career step like I'm being able to do.
I'm Sarah Loch-Test, an artist from Columbus, Ohio. I've been making jewelry for as long as I can remember! I like to have fun with my work and combine childhood obsessions (like Dinosaurs!) with elements of design and craft that inspire me. Art Nouveau, Islamic and Indian craft are my favorite sources of inspiration and I hope you can see that in my jewelry. My work can be found at the Mac Worthington Gallery, The Columbus Cultural Arts Center and on permanent display in Northland High School. I'm a graduate of the B.F.A. craft program at Kent State University, concentrating in Jewelry Metals and Enameling. I sometimes get distracted and work in other mediums such as felt or will do some sewing. I've been in shows and exhibitions at Kent State, the SNAG Conference and around the Columbus Area. You can view other work at www.SarahLoch-Test.com Find my on Facebook: www.facebook.com/SarahLochTestJewelry Twitter: @SarahLochTest Currently I'm in Pittsburgh, PA at the Society of Contemporary Craft, where I am the first ever Studio Apprentice. I'll soon be moving to North Carolina, to start grad school at East Carolina University.
Latest posts by Sarah Loch-Test (see all)