Reprint from the 2010 Issue of Pala Minerals "Minfermation February 2010"
http://www.palaminerals.com/news_2010_v1.php#palaminerals_feb
Mineral and Mineralogy News
Into the Oh! Zone
A study of Himalaya Mine tourmaline
Color zoning in tourmaline is well known to enthusiasts of Southern California minerals. Pala's
Tourmaline Buying Guide
includes a couple of lovely examples of the natural phenomenon.
Slices of bi-color "watermelon" tourmaline are the centerpieces around which jewelry creations are crafted. San Diego County's Himalaya Mine, which has a role in our
chronicle
of Pala International's 40 years in the trade, produced color-zoned tourmaline for more nearly the entire 20th century. This month, in the Mineralogical Society of America's journal,
American Mineralogist,
a remarkable "strongly color-zoned crystal" from the Himalaya is amongst the mine's specimens discussed at some length.
"Tourmaline of the elbaite-schorl series from the Himalaya Mine, Mesa Grande, California: A detailed investigation" (abstracted here
http://ammin.geoscienceworld.org/content/95/1/24.abstract
) is a study authored by an international group from Europe and the U.S.: Andreas Ertl, George R. Rossman, John M. Hughes, David London, Ying Wang, Julie A. O'Leary, M. Darby Dyar, Stefan Prowatke, Thomas Ludwig, and Ekkehart Tillmanns.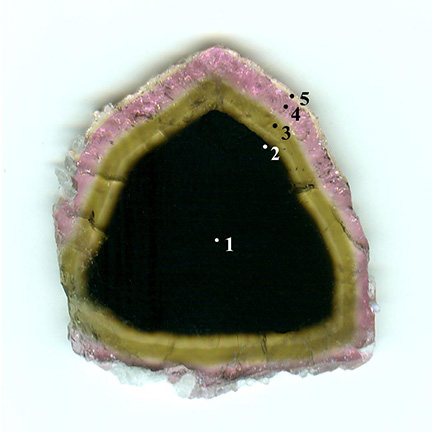 and so much in between, from a black core of "oxy-schorl" to an icing of colorless fluor-elbaite. (Photo courtesy George R. Rossman, California Institute of Technology)
The study's abstract discusses the rising, and sometimes falling, chemical profusions of elements in the color-zoned crystal, pictured above. Samples from the mine were investigated using a range of methods. The study concludes with a discussion of the formation of the tourmaline-bearing cavities in the Himalaya Mine's dike.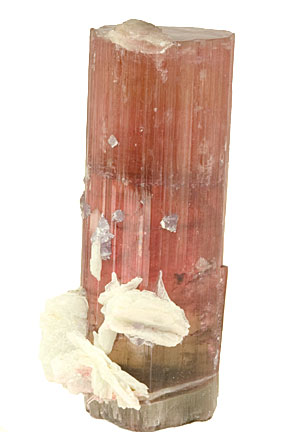 Inventory #14185.
Two terminated tourmaline crystals on a matrix with cleavelandite and quartz. Bottom side has black tourmaline with diffuse color zoning similar to that discussed in the American Mineralogist study. From Letpanhla, Mandalay Division, Mandalay District, Burma. See Inventory #17393. (Photos: John McLean)
A specimen typical of the mine's fine production. Double-terminated, with cleavelandite and lepidolite. Three quarters pink with one termination a light cat's eye green. See
Latest posts by Robyn Hawk (see all)