Argentium sterling "Spitfire" cufflinks
My main supplier has recently started carrying Argentium sterling, so I decided I had to give it a try.  I had an order for a pair of "Spitfire" cufflinks for a customer who has a relative in the RAF.
The image was printed onto PNP Blue etching transfer sheet, which was then transferred to the Argentium.  I used ferric nitrate for the etching process.  When I was happy with the result, the silver was cleaned up and the designs saw pierced using a jeweller's saw.  After finishing the edges of the aeroplanes using files, I fused them onto another sheet of Argentium sterling, to which I had given a hammered finish.  The cufflink findings were then soldered onto the backs, before polishing and then hardening in my domestic oven.  Discolouration was then pickled away before a final quick buff.
Here are a few pictures of the finished result.  Photographing them was a whole different learning curve!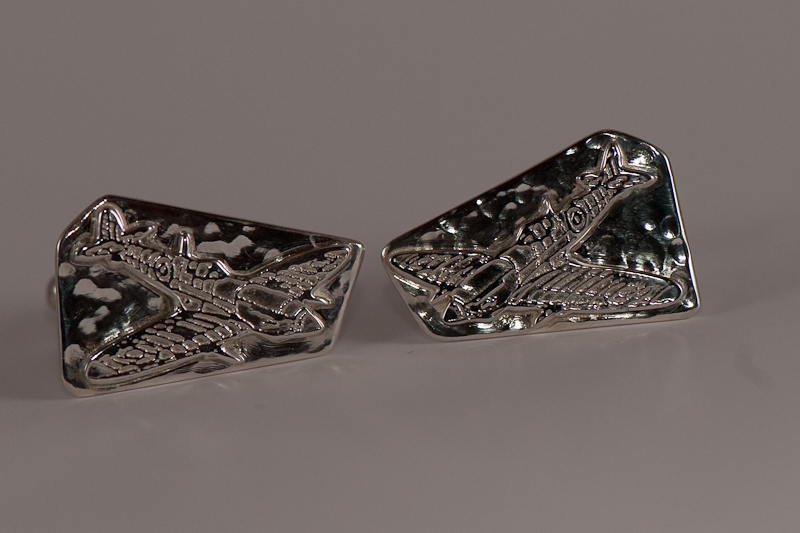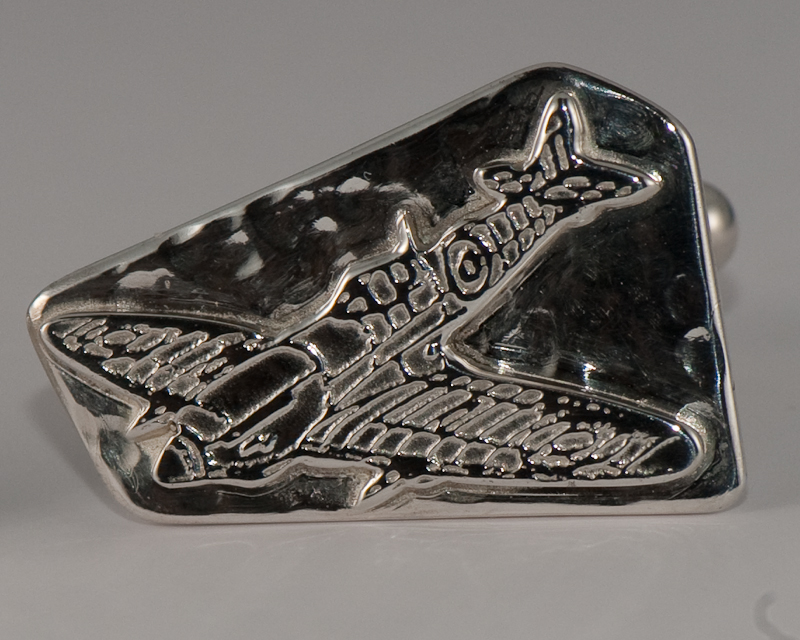 I was HUGELY impressed with the Argentium and in particular how easily it fused, and that I didn't have to contend with any firestain!  I did have a couple of problems making the cufflinks though, one to do with Argentium, and one self induced.  The self induced problem was that I cooked the steel springs in one pair of cufflink findings, and so had to cut them off and solder on a new pair using a lower melting point solder.  Lesson learned that I can't always use my favourite, hard solder for everything.  I used easy, as the medium solder I have does not flow nicely and has a texture like crunchy peanut butter when it melts!  I must find some decent medium solder.
The other problem I had was that the Argentium didn't seem to want to take a polish as easily as standard sterling silver.  I'm presuming this is because of the layer of germanium oxide, which is harder than sterling silver.  If anybody has any suggestions for a suitable polishing compound for Argentium sterling, which will produce a high polish, I'd be very interested.  I was not happy that I couldn't get into all the nooks and crannies and get rid of the "frosted" look, so in the end, I used a steel burnisher to put a shine into those areas.  It worked pretty well, but when louped (and in the pictures above), you can see some scratches as a result.  Fortunately, they are not visible to the naked eye in real size.  The customer was over the moon with happiness at how they turned out, and will be placing another order.  I will be using Argentium again soon – it's great!!!  Oh and this etching lark is a whole lot of fun!
Latest posts by helen hill (see all)