After trimming the ends of the composite stone. Ends made perpendicular to long axis. Then I pierced copper discs of 15 mm from a sheet of 23 ga copper. These were made into half domes using my dapping block and punches. Attaching these to the ends of the stone made a bead that is 36 x 15 mm. Now to design something to use the bead.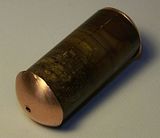 Click on the thumbnail to see a full size picture.
John
66 year old retired educator (geology and emergency medical care) and practicing paramedic. I came back to my passion, rocks and minerals, then making gemstones and jewelry with them.
Latest posts by John Rasmussen (see all)