HAPPY MAY DAY!
It is the first of May and bright and sunny in South Carolina. We have a saying around here, "It's not hot, wait until August." Temperatures are in the mid 80's but very nice. I finished this ring about 0330 this morning.
This is the second diamond ring made with small (2 mm) diamonds for the same customer. In this case the shank is made from 10 gauge round halfhard Sterling Silver wire that was wound around a ring mandrel. This was soldered together with hard silver solder. (The difference among the solders is the temperature at which they melt, hard is the highest.) Then an oval plate was sawn from 26 gauge Sterling Silver sheet and soldered to the shank with medium solder. Finally the prong heads were soldered to the plate with easy solder. Pickling and cleaning after each soldering. The polishing to high gloss before setting the stones. The diamonds were then set in the prongs and the ring was done.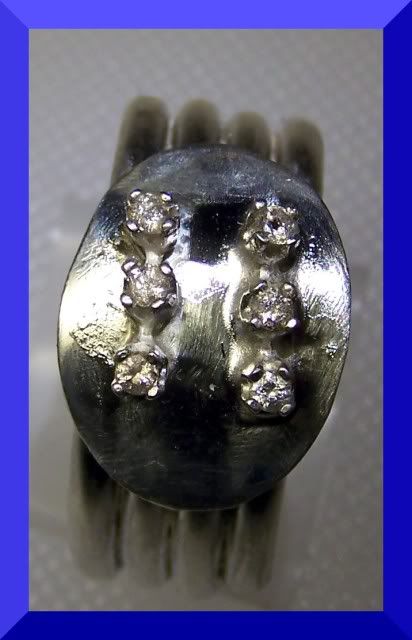 Thanks for looking.
John

66 year old retired educator (geology and emergency medical care) and practicing paramedic. I came back to my passion, rocks and minerals, then making gemstones and jewelry with them.
Latest posts by John Rasmussen (see all)