As the end of August approaches, I have been doing yard work in the very early morning (0600) before the heat that causes the dogs to just lie in the dust comes to fruition. That does leave time during the day to create and fabricate. Debora has been very productive and has been making necklaces. I have been working on commission pieces and have finished two diamond rings. One is going to Indonesia to the geologist who commissioned the bracelet that I completed last month.
Necklaces made by Debora:
Click on any of the thumbnails in my blog to see a large image.
My Handmade Artists Shop is now set up and in operation. This is a new venue for selling any handmade product. The artists selling are varied in medium and experience. I enjoy this group as not only do we have a shop with unlimited numbers of items for a fixed monthly price (there is even a discount for paying by the year), there is an online forum and a weekly chat session for all of us. The interaction with artists in other media is very eye opening and I even glean some great ideas for making my jewelry better from others.
Teresa Rusk, from Mebane, NC, is another jewelry artist who has been very supportive to me. She has been a great help in my getting to know what is going on in the Forum and the shops. Her shop is also very well stocked. I Knit Quilt and Sew is a fantastic shop where you can see art in a totally different style from most others. Knit is one of the moderators for our weekly chat session. The shops are maintained by Chain by Mboi. He is another great mentor in how to set up your shop.
I put a bracelet up for sale a couple days ago and within 24 hours it was sold. My first sale from the HAS (abbreviation for Handmade Artists Shops). This was the first time that I had used my Rainbow Resin. The bracelet was made with base metal squares filled with peridot and tourmaline chips in the clear resin.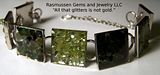 I absolutely love HAS, the item entry is simple, and obviously someone is shopping. My other online shop has been over a year without sales.
I have been doing the custom work, and going forward with making chain. I finished a 4 in 1 chain made with base metal rings in gold and silver color. I am enjoying making chain very much. The only drawback is the time necessary to complete a project.
66 year old retired educator (geology and emergency medical care) and practicing paramedic. I came back to my passion, rocks and minerals, then making gemstones and jewelry with them.
Latest posts by John Rasmussen (see all)