Actually the end of October for the making of these two necklaces. The first was a small piece of opal and matrix rough. As can be seen the opal is the bottom edge and is a gray-blue color. The gray matrix is obvious in this free form cabochon. I cut the cabochon two weeks ago, then drilled a 2 mm hole at the apex of the triangular shape and attached the bail. The chain is a base metal with silver coloring.

If you click on the thumbnail, you can see a large image of the piece. The next is made from 18 gauge round copper wire. I bought a 50 foot coil of dead soft wire (www.abeadedaffair.com) then coiled the wire with the assistance of Debbie into 6 mm jump rings. The entire chain was handcrafted. The resulting Byzantine pattern necklace is 22 inches long. As you all know, no one could afford to purchase this necklace if the actual hours used to craft the chain were used to price the necklace. I took at least 10 hours to put the chain together.
<!—->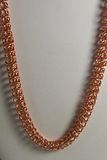 >
Everyone have a happy Turkey Day later this month. I have two birthdays to take care of. Thanks to Maria Jenny for one gift (teal pearl bracelet) and the other is a dark yellow topaz / gold necklace.
66 year old retired educator (geology and emergency medical care) and practicing paramedic. I came back to my passion, rocks and minerals, then making gemstones and jewelry with them.
Latest posts by John Rasmussen (see all)