Mokume Gane is the Japanese art of creating wood-grained metal. The technique was developed centuries ago to decorate the armor and swords of Samurai warriors. Mokume Gane is one of the most intriguing and captivating metal techniques. It is now possible to bring this beautiful art form into contemporary jewelry. The Academy is proud to present two classes in this metal technique, taught by two of the leaders in this field.
This short class focuses on the most creative aspect of Mokume Gane: developing patterns. Beginning with a metal billet that has already been laminated, students learn a wide range of methods for carving and forming to create attractive patterns.
Prerequisite: Fabrication 1 or experience.
Jim Binnion is a respected engineer and innovator in the technical metals field. Himself a master goldsmith, Jim is also one of the world's foremost authorities on the science of jewelry making and patterned metals.
Chris Ploof is an award-winning master jeweler who has made his own contributions to the field of contemporary jewelry design and technology. Chris has twice been chosen to receive the Santa Fe Symposium's Industry Leader Award.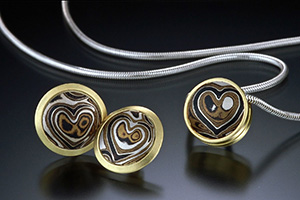 Latest posts by Revere Academy (see all)