Metal working is highly refined in Japan. In this class you will learn one of these highly sophisticated techniques, the art of high relief carving. Begin by making your own chisel, called Ha-tagane, which allows bold motifs to be carved into metal. Then, learn to use smaller chisels, called Katakiri, to refine and finely sculpt the shapes.
Textures may be added using various Katakiri and Nunome chisels.  Past students with Zougan skills may add inlay to their Takabori piece. Files are used for further refinement, and then the work is polished with charcoal. A Japanese patina called niiro is applied last. Master Naohiro Yamada will demonstrate the techniques as he creates a traditional Japanese tiger motif. Students may choose other designs. Prerequisite: Fabrication 2 or experience.
NAOHIRO YAMADA is a master metalsmith who was trained in traditional Japanese metal techniques. Yamada sensei is a graduate and former instructor of Hiko Mizuno Jewelry College in Tokyo. Today he has his own studio where he teaches, mentors and exhibits his own product line.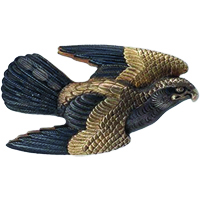 Latest posts by Revere Academy (see all)