And now for the first installment of the "awesome" beauties I promised:
While attending the Tucson shows two years ago, my husband was admiring some beautiful petrified wood (his favorite "rock") when the dealer mentioned to him that he might enjoy seeing the wonderful collection of petrified wood exhibited at a museum near Portland, Oregon.  He gave Joe a brochure for the Rice Northwest Museum of Rocks and Minerals which was duly filed for future reference.
Since our younger son lives in Portland and we were planning a visit this year, Joe retrieved the brochure and brought it along with stacks of other potential sights/activities for the area.  (He's organized and really gets into planning for trips).
So about a week ago, on a lovely crisp day (as distinguished from the cold, cloudy and rainy ones we'd had our first few days) we ventured out on our own while David headed to work.
We arrived at the museum at 11:00, saw that the hours were 1 to 5 and barely broke stride as we detoured to the town of Tillamook for lunch and a couple of cheese factory tours (YUM!).  Then back to the museum with about 1 1/2 hours for our visit.
Note: Joe is not only good with trip planning; he takes a pretty mean photo now and then.  A little further down, you will see a sample.
Back to the museum:  Joe started out in heaven viewing the petrified woods as I tried to take in a little of the meteorites and fossils before heading to the agate and mineral collections.  We were blown away by the incredible specimens we found here.  Everywhere we turned, there were superlatives.  Now, we've seen some might nice minerals, etc. over the last 30 years, especially as we have been able to visit the Tucson shows since 1985.
I can't begin to describe everything we saw but will say that "WOW" and "Oh my _ _ _" punctuated much of our conversation.  Sometimes, when your jaw has dropped to your chest, speech is neither possible not particularly helpful.
We had seen the specimen pictured on the front of the museum brochure and imagined the specimen plate to be perhaps 2 inches tall by 1 1/2″ wide with nice plump rhodochrosite rhombs.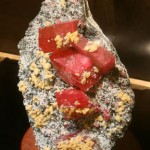 See larger image here.  Didn't I promise "awesome"?
Well, this is the "Alma Rose" rhodochrosite from the Sweet Home Mine in Alma, Colorado – apparently the signature piece of the museum.  Joe saw it before I joined him in that area.  I was interested in checking out some cycads at the end of a hallway nearby and as I headed that way, he said to me "Be sure to look at the rhodochrosite just past the safe over there."  He nonchalantly walked along with me and was in perfect position to see me stop in my tracks, gaping at this enormous shield (think big steering wheel – 17″ high) adorned with an exquisite grouping of fist-sized rhodochrosite crystals looking for all the world like huge cubes of cherry jello!
After more drooling and picture-taking we reluctantly left the museum at closing, stopping by the gift shop to make a donation beyond the very reasonable $6 senior admission we'd paid.
We did not enter the fluorescents ("Rainbow") room due to our time limitations (darn!) and we could easily have lingered longer in every section.  We look forward to our next visit when we will delve a bit deeper and discover more of the treasures that are shared here.
There are more of Joe's pictures I'd like to share and will add something here again in a day or so and from time to time.  Eventually I think I will devote a page on my website to this gem of a museum along with a gallery of images.  Stay tuned.
In the meantime, check below for additional information about the museum and a link to their website.
About the museum (from the website):
"The Rice Northwest Museum of Rocks and Minerals is located in Hillsboro, Oregon, about 20 minutes west of downtown Portland.  The Rice NW Museum is home to the "Alma Rose" Rhodochrosite from the Sweet Home Mine in Alma, Colorado.  The museum also boasts the largest opal-filled thunderegg in the world, crystallized gold bigger than your hand, dinosaur eggs and fossils, an extensive meteorite collection and hundreds of other attractions.  The Rice Museum has become nationally recognized.  It is the finest rocks and minerals museum in the Pacific Northwest, and one of the best in the nation."
Rice Northwest Museum of Rocks and Minerals
26385 NW Groveland Drive
Hillsboro, Oregon
Note:  The "Alma Rose" was exhibited along with the "Alma King" at the Tucson Gem and Mineral Show in 1993 and I regret that we did not see them.
Thanks for visiting.
Pam
{ 0 comments }
Latest posts by songofthephoenix (see all)