Taweesak Tim Molsawat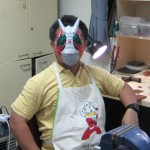 In my work, I am investigating our everyday cultural activities regarding the social, cultural, political, economical, and personal issues to reveal our humanity in today society. I utilize my work as a mirror to examine our roles and responsibilities to the community and the world.
The focus is on our interrelated activities and social issues in the diverse society today. The work is intended to be the catalysts to question and provoke interpretations and thoughts for the audience to engage and interact with the work.
Furthermore, I am not only using the elements from both eastern and western cultures to describe universal issues but also exploring non-traditional materials such as book, hair, salt, fiber, plastic, and wood including found objects intricating with traditional metalsmith materials such as enamel, copper, and sterling silver that help define the contexts of each piece. I also examine the ways of using everyday objects as contemporary symbols for today's cultural structure. The preciousness and the value of the work are from the ideas that the work communicates not from the value of materials. In addition, I am investigating the arrangements and the interactions between the work and the viewer. I want to challenge the viewer to participate both psychologically and physically with the work. In my work, I pay equal essential attention to both conceptual idea and craftsmanship.