Creating Variations on Traditional Techniques        by Beth Stone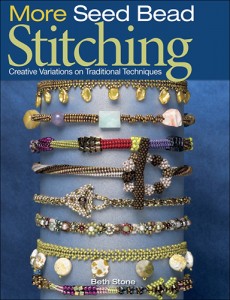 Kalmbach Books   ISBN: 978-0-87116-290-8
Well, here is Beth's "follow up" to her Seed Bead Stitching book I reviewed previously.  I have to tell you there are no "duds" from Kalmbach when it comes to beading books. 
I really like Beth's very informal writing style; it's like she's sitting right here with me talking about beads and designs.  Her personality and sense of humor really come through.  Somehow, it makes the designs and her instructions less intimidating.  Which, for this book, that's good.  The designs are more difficult, incorporating triangles, several examples of toggles (I definitely have ideas for using these, maybe as a bracelet focal point), medallions with layers of beads, drops and more.  I had another pattern for creating branches and dangles and could never figure it out, but Beth made it sound very simple in this book.
One thing about working with seed bead patterns is the list of exact beads you need to make the item.  Beth commented on a reader wanting to know exact bead names and colors used in the projects.  Beth quickly set that concern to rest, telling us she doesn't know. "…years ago I transferred most of my beads to those really cute little flip-top containers and did not transfer any names or numbers."  She encourages us to simply go thru and pick what we like.  So, if you are an exacting seed beader, and work from precise plans and measurements, you may not appreciate Beth's approach in this book.  BUT, for me, I'm less intimidated. 
The colors and designs range from bead soup projects to optically precise bead combinations.  She has a set of triangles, some closed and some open in the center, that form a toggle bracelet.  There are black and white triangles, separated by red and black, yellow/black and blue/black.  Very eye-catching, and I loved the contrast of different size and shape of triangles in the design.
I do have to admit that I am not someone who know peyote from herringbone from brick stitch, so I have to really read through a design to understand what it needs.  One thing Beth explains is how to ring 1 bead with a circle of smaller ones and how to do that regardless of the size of the center bead.  Finally, don't miss page 86, where Beth shows examples of circles formed from coils of beads.  She links a few of these.  With the right colors, these would be dramatic, one of a kind pendants, or even a cool bracelet!  They are on my "to do" list.  If I don't like them linked, I'll have plenty of unique toggle clasp rounds for something else.
Now, I guess I need to find my really strong magnifying glasses so I can see these tiny buggers!  As I recall my years crocheting, maintaining a steady, consistent tension is not always my strength, so I suspect that will be a struggle with this too.  Don't miss this book, I like it far more than her first one and I liked that one too!
{ 3 comments }
Latest posts by teribaskett (see all)