It's been a while since I felt I had anything worth writing here, but it seems like time now.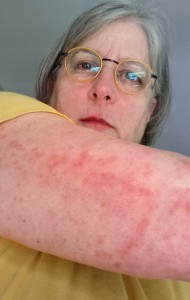 I've taken a decisive step—I have left my job. Yay! And, YIKES. One of the results of my current situation is I have an itchy, red rash that waxes and wanes with my degree of anxiety (and, yes, I've seen the doc, and tried the usual approaches. I even tried floating in an isolation tank). But it was clear I was never going to manage to get the house emptied of 30-years-worth of stuff and ready to sell while working. And I wasn't happy in my job, so no regrets there, except for the obvious—no income.
So emptying the house is "eating the elephant". It's a really big elephant and each bite is so small I don't know how I'm going to manage, but bite by bite, I WILL deal with it, and as fast as I possibly can. Giving away a lot of stuff on Freecycle, offering stuff for sale on Craig's List, and when the garage is clear enough, I'll have a garage sale (m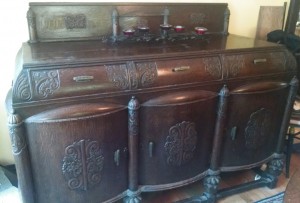 oney!!) Much of what is here is stuff I value, so it is very hard. But I know it is ultimately liberating. I've reached the point of contemplating selling my beautiful one-of-a-kind turn-of-the-last-cantury solid oak German sideboard, which I really love, but it is bulky and unbelievably heavy, not the kind of thing you keep carting from one place to another.
This change of heart also feels like a milestone. Or maybe a millstone. If I can part with that, what can I not?
Well, my tools and materials, of course. All those "I'm going to make something out of this someday" things. After all, I am an artist, so it's legit… right? Like I'm the only one! All the things I've made already (a LOT of pottery)… The impedimenta of 64 years of life, half of it in this house.
I haven't bought my RV yet (no money, probably until the house is sold. Anybody want to lend me $15000 for 4-6 months?) I would really like to buy one, both so I can outfit it for jewelry-making as well as living, and as a retreat from the house. You see, my soon-to-be-ex is, are you ready? Moving back in. To save money until the house is sold. My lawyer tells me I cannot legally refuse, as he is half-owner and we're still legally married (cue the rash).
Naturally, I'm fant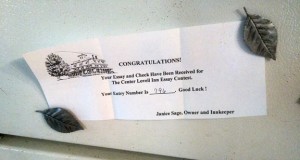 asizing about that b&b I entered to win (if you missed that installment, it is here: http://userblogs.ganoksin.com/noel/2015/04/01/serendipity-and-flying-pigs/). That would sure make things easier! As expected, the deadline has been extended, so I will keep officially hoping for another couple weeks, unless they extend again. I do realize there's about a snowball's chance in hell, so I'm not sitting and waiting.
It has been literally years since I've been able to do my own creative work, my jewelry and painting, and I still can't until all this is done and I'm in my very own mobile tiny house, otherwise known as a motorhome. So you can believe I am antsy. Oh, man, I can taste it! Sit down at my tiny bench in my tiny home whenever—and wherever—I choose!!! I also plan to paint the places I pass through, and those paintings and/or prints of them will be for sale—like, to YOU, gentle reader. You, too, can share in this adventure and help keep me afloat. As soon as time and mental bandwidth permit, I plan to come up with a subscription plan where people who like my painting style and my adventure can buy an option on the weekly paintings I will be offering. Stay tuned!
You can see one of my little tinted sketches (watercolor and ink) two blog p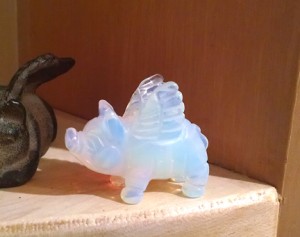 ostings back. And I'm going to put one of my full-fledged pastels at the bottom of this post, to whet your appetite. If you fall in love with either of those, prints are available, let me know.
Meanwhile, time to go—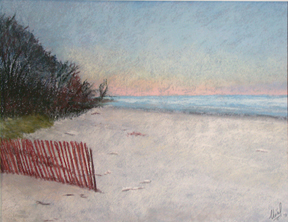 much much more elephant to chew.
Latest posts by noelyovovich (see all)
Latest posts by noelyovovich (see all)