The earrings,  polished just too much, lost some crispness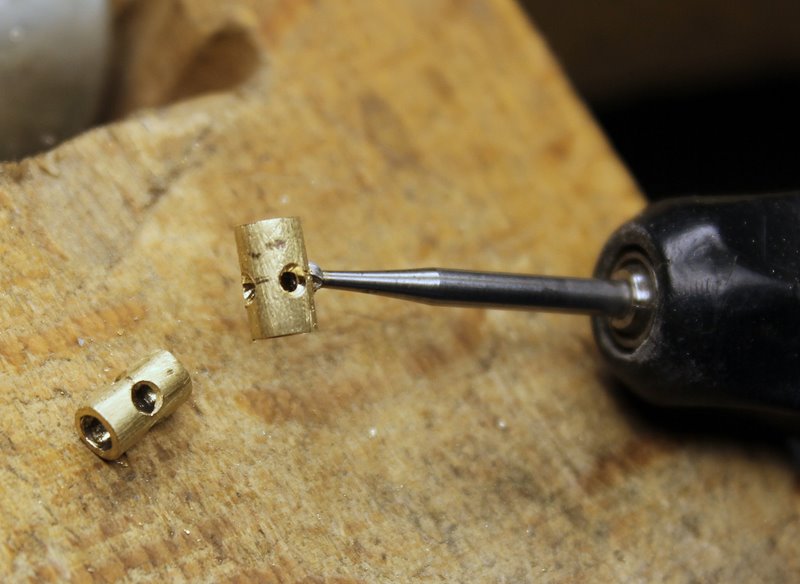 Made two tubes of the right diameter (the crown of the stone rests in the thickness of the tube), made four holes in the circumference at middle height.
Now I'm enlarging the holes, leaving between them the thickness of a prong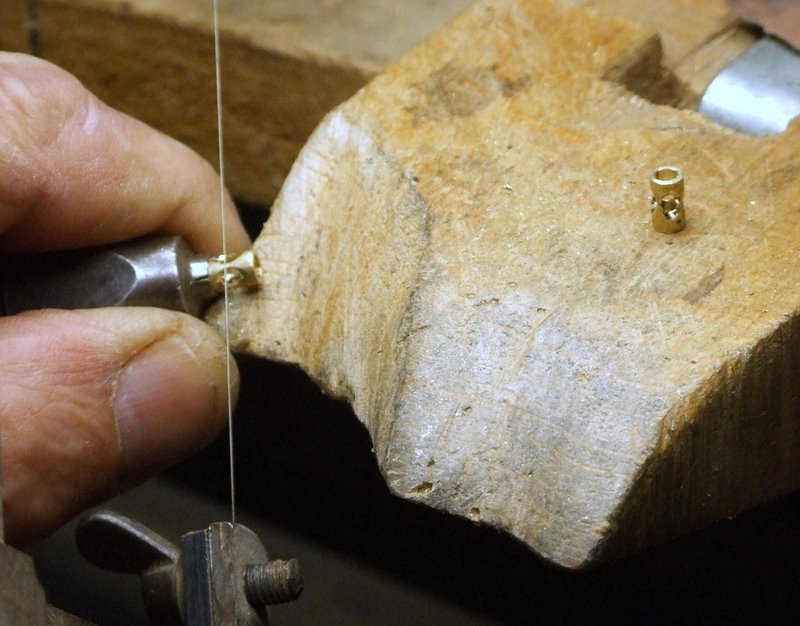 cut in half the tube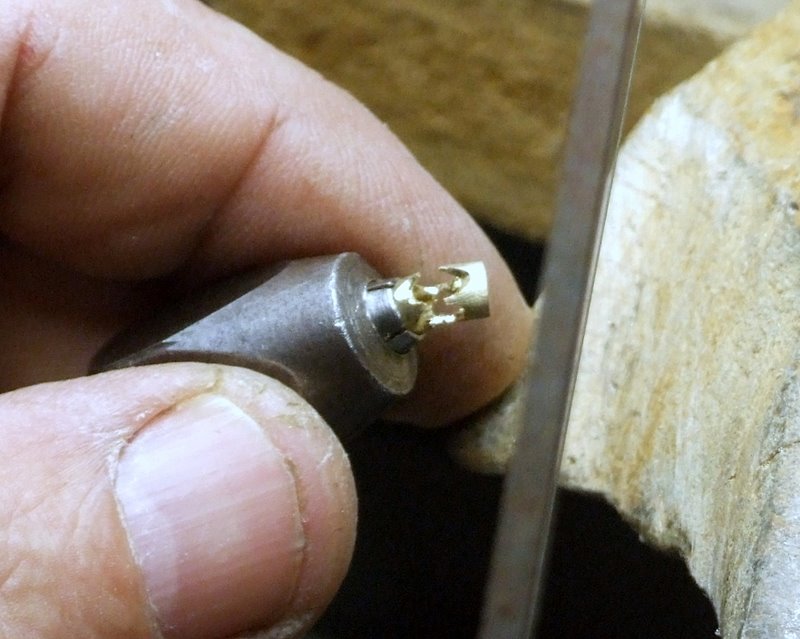 to get two pronged bezels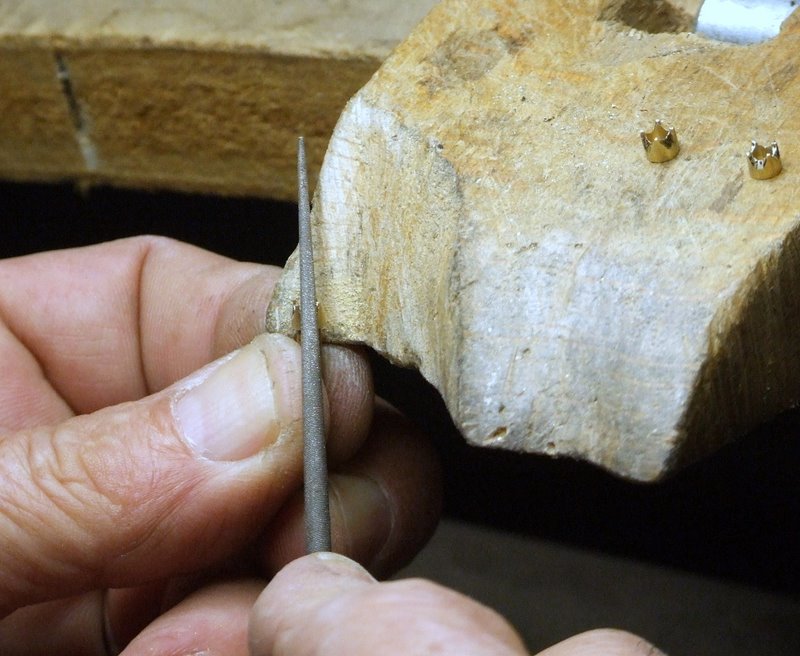 some filing with the round file to set the inclination and regularize the prongs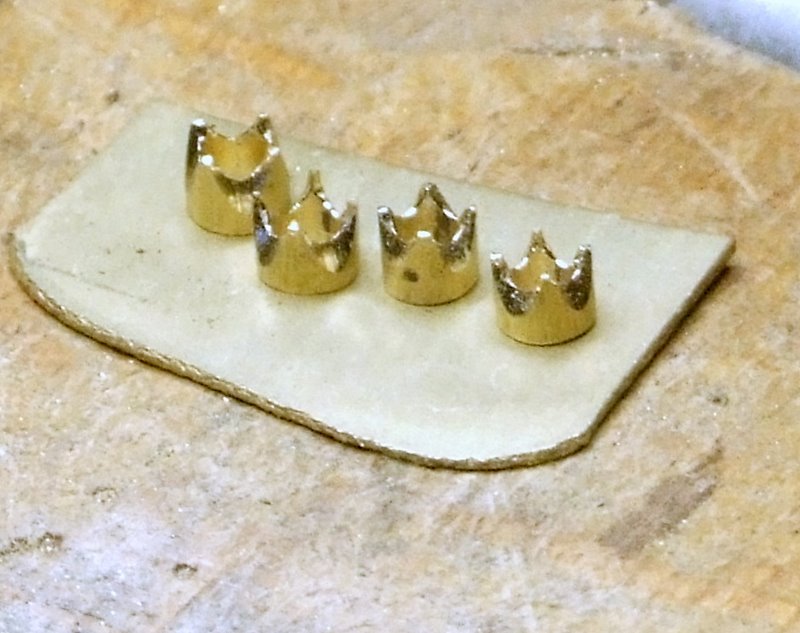 here are the four (I' making two pair of earrings) bezels, the prongs are ok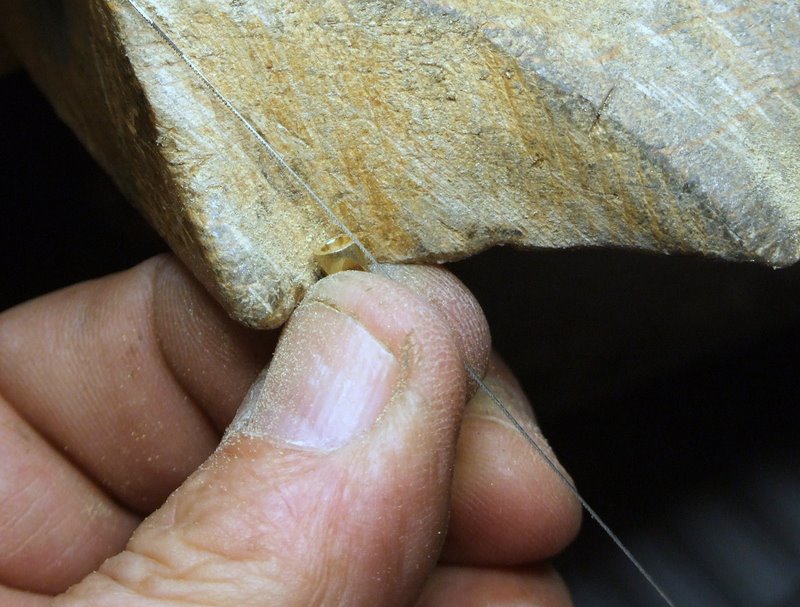 a nick with the saw just under the prongs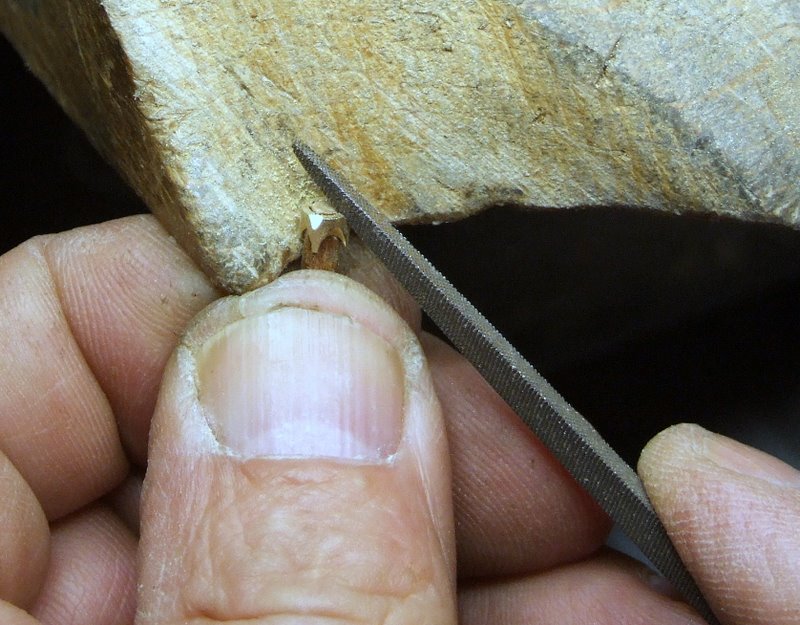 with a square file the nick is enlarged and deepened, the bezel is held in a piece of wood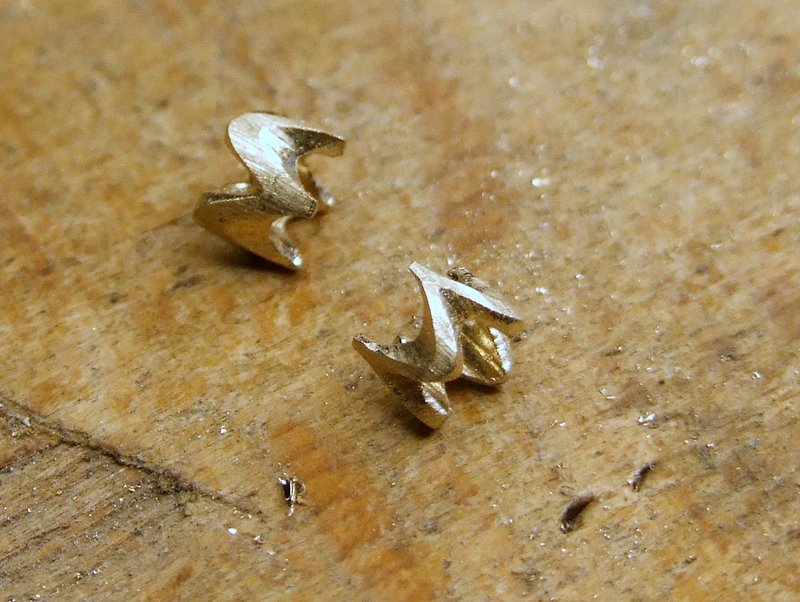 ready for the back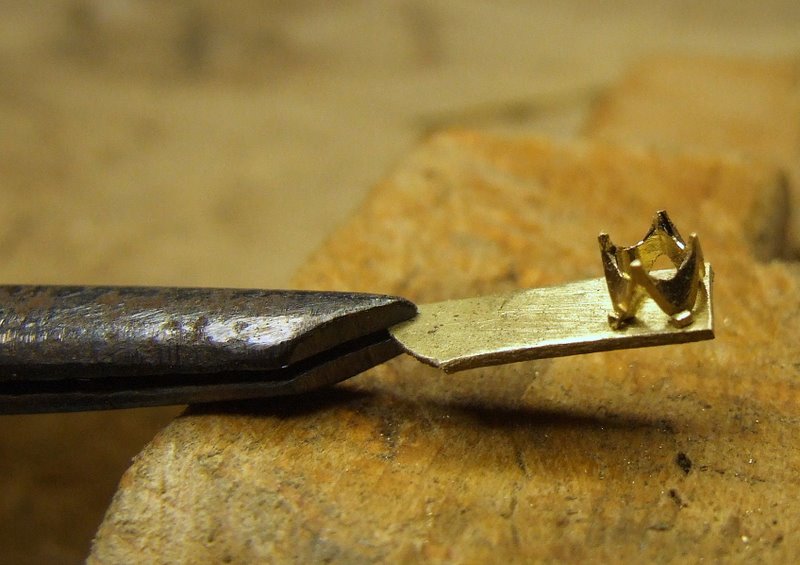 the paillons are in place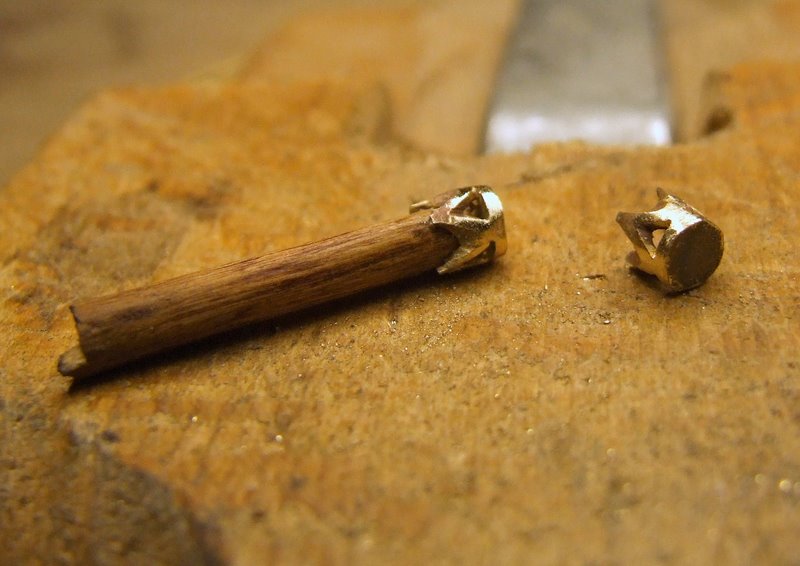 the bottom has been soldered and cut in circle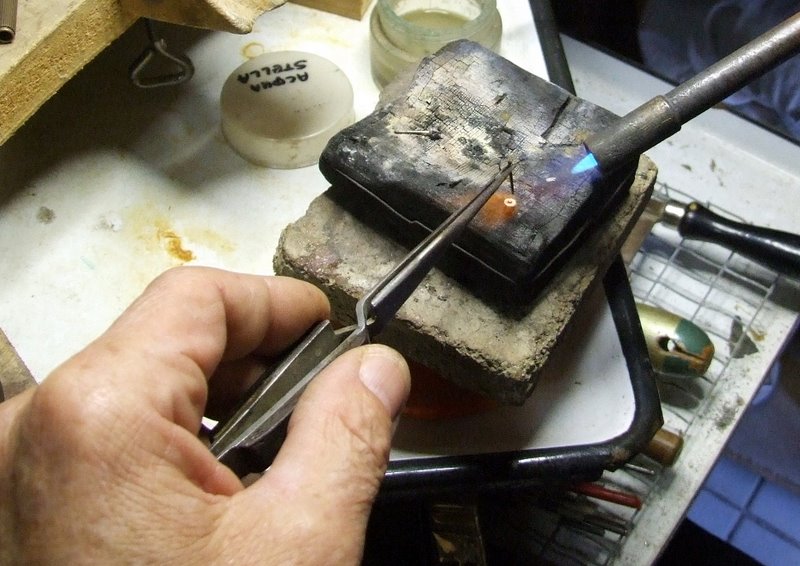 to solder the stem, I heat the bottom of the bezel on which a paillon is placed, and keep the stem near the flame. When the paillon starts melting I rest the stem on it, wait till the solder wets bezel and stem, take away the flame and wait for the solder to set before opening the tweezers.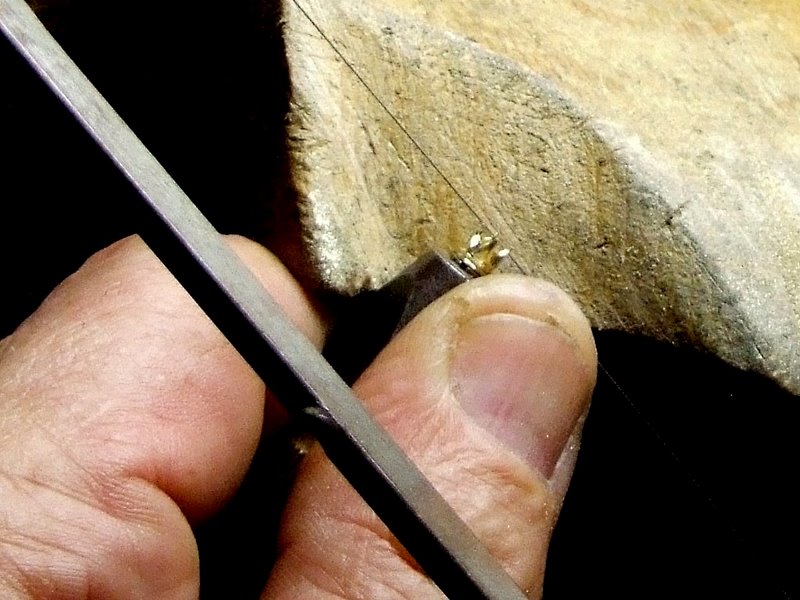 I nick the inside of each prong with the saw, a little filing with a triangular file will perfect the notch.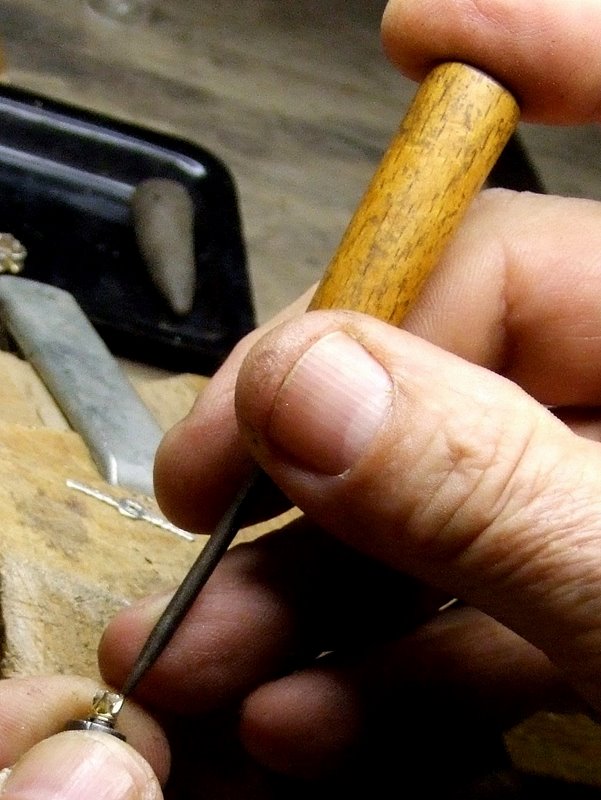 some beading over the tip of the prongs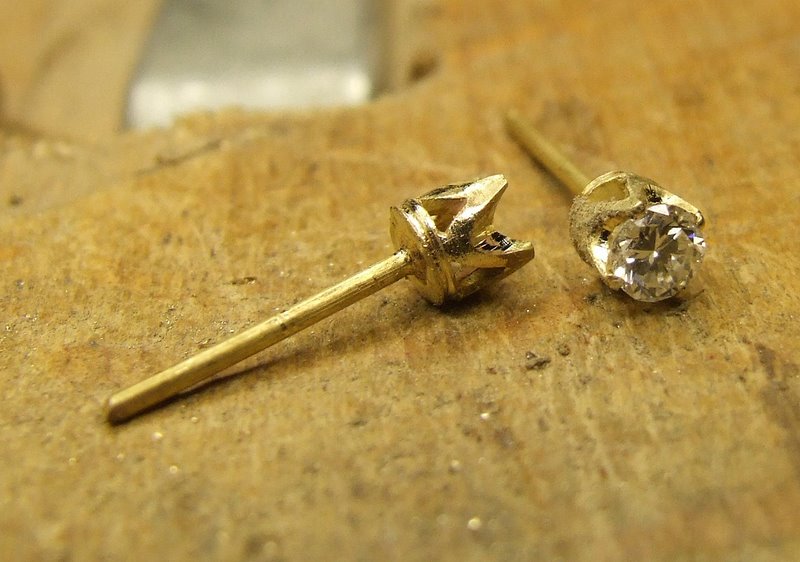 forgot to say that I made a groove at the bottom of the bezels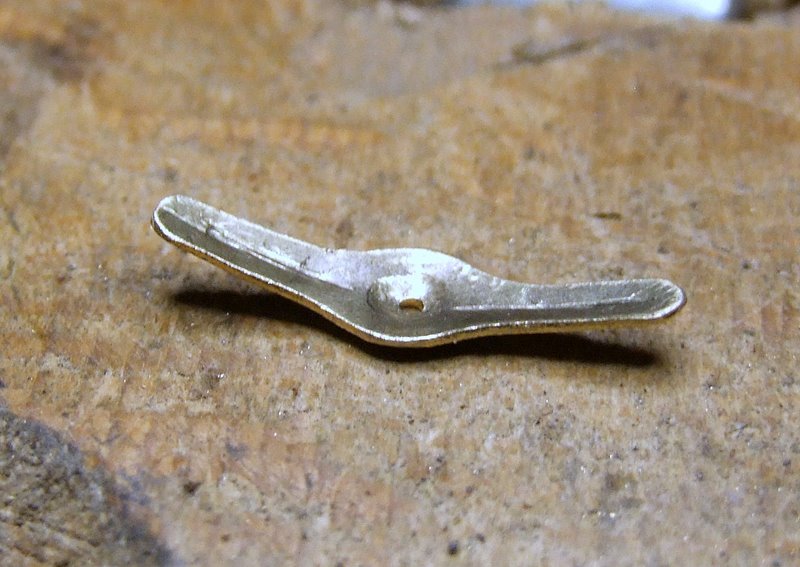 The butterfly nuts are 0.6 mm thick, somewhere between gauge 24 and 22.  First I cut the shape, with a round punch I deepen the center and bore a hole. With a tracer punch I  make a groove in the middle of the wings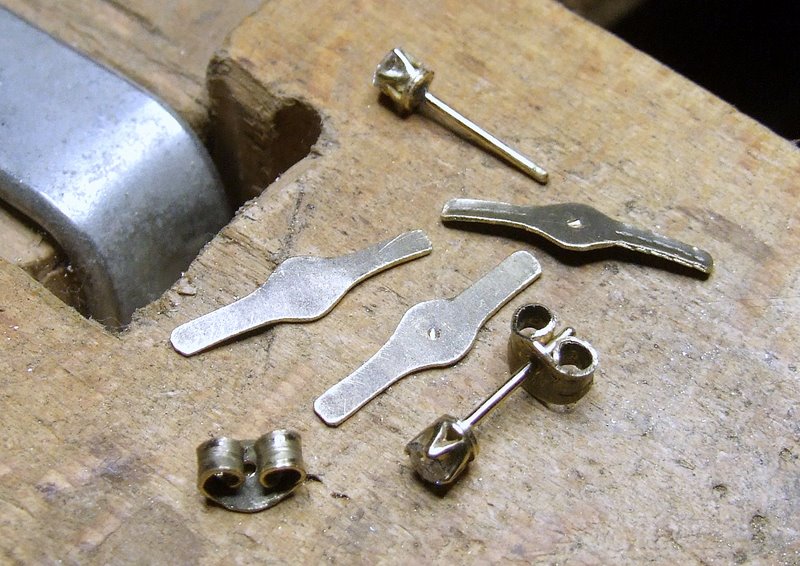 Then I  roll up the wings until they will let the stem pass through with a little effort.  Just a little under the end of the stem I made a circular groove with round nosed pliers: the butterfly nut clicks in the groove and stays secure.
I JUST SAW THAT I'VE USED UP 94% OF THE SPACE GANOKSIN ALLOWS ME TO USE.
ANY SUGGESTION ON HOW TO GO ON?
I was planning to post an article on the unconventional use of the wire rolling mills.
Goodbye, Mario
{ 7 comments }
Mario Cesari Born in Venezia, Italy, metalworker for thirty-odd years, learning blacksmithing and chasing in London, cuttlefish bone casting and jewel construction back in Venezia, small-scale sand casting and other traditional nepalese techniques in Katmandu. Went to live in the country and learnt forge welding and Damascus steel making, attended seminar on Ancient Etruscan Techniques and learnt granulation, made replicas of scientific instruments for museums. In 1999 at UGA in Athens, GA, as visiting artist. Translated Metalwork and enameling by H. Maryon, wrote articles for Italian and American crafts magazines. In the last years mostly researching, teaching and taking care of my site http://www.pennabilli.org
Latest posts by Mario Cesari (see all)