Each month at the Jewelry Making Forum on About.com one member hosts a drawing for a prize to be given to another member. NH Bead Lady was the host in June and I was one of the two winners. Thank you Linda for the fantastic sets of beads and the aventurine stone. I looked for some time at the stone and tried to decide how to use it. I thought about wire wrapping it. I thought about making a bezel setting for it. My fine silver bezel wire isn't wide enough to make the bezel, I could not see me cutting silver sheet wide enough to make a bezel, and then it would cover most of the stone. The stone shape made me think of an asymmetric bead to use as a focal in a necklace. The red rectangular beads (RUBY) would compliment this stone with the juxtaposition of green and red, so I continued this and made the clasp end complete the necklace with some of the green Tourmaline beads. So the necklace was strung of silver colored wire with Sterling Silver findings and lobster claw clasp.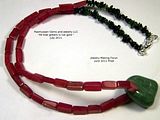 Just click on the thumbnail to see large version of the picture.
I could not let this necklace be alone in life, so I used some more of the Tourmaline chips to make two 2 inch drop earrings on surgical steel ear wires. Thus when you leave the aventurine focal and travel up the necklace you then jump to the ears where the dark green is continued. So here are the earrings:

Thanks for looking. Looking forward to seeing what other winners do in the future.
John
66 year old retired educator (geology and emergency medical care) and practicing paramedic. I came back to my passion, rocks and minerals, then making gemstones and jewelry with them.
Latest posts by John Rasmussen (see all)