Have been working for a couple weeks on a ring using a large 10 mm round brilliant cut eye clean Peridot stone. I saw a ring with a stone set between two shanks, so I tried to produce a ring with a similar shape. First I fashioned a bezel setting for the stone, with a 22 gauge square wire as the shelf to set the stone on. Then fashioned the shank with a 10 mm wide opening to set the bezel into. After soldering, pickling and polishing, I set in the stone, then burnished and polished the ring again. The result was a very unique and beautiful ring.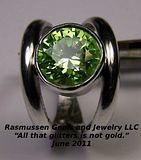 Now I am making my dear wife a similar ring with a citrine stone. Click on the thumbnails to see a larger image. Please excuse the poor quality of my photos.
66 year old retired educator (geology and emergency medical care) and practicing paramedic. I came back to my passion, rocks and minerals, then making gemstones and jewelry with them.
Latest posts by John Rasmussen (see all)