Today was the first day of my Soldering class at Rio Grande's Winter Workshop.  Technically you might say that I already "know" soldering, but after having taken classes at Rio Grande last year I became fully aware that what you can learn there is a different caliber of knowledge than what I was learning back at my community college classes.  Not to put down the community college classes, mind you, but they are sometimes (not all the time – I've had good teachers too!) being taught by people with less expertise and they certainly don't have the equipment available that Rio can offer their classrooms.  I learned a lot of things from the classes I'd already taken.  Here in Albuquerque I've been taking it to the next level and correcting some incorrectly learned techniques along the way.  Not to mention finding out about all the new and snazzy things I could potentially purchase to make my life easier.  I have a list growing and it's going to be hard to pick and choose which items are going to make it into my "shopping cart" at the end of the week.
The class is being taught by the ever-knowledgeable Mark Nelson, whom I had two classes with last year.  We worked on three projects – two bracelets and a pair of earrings: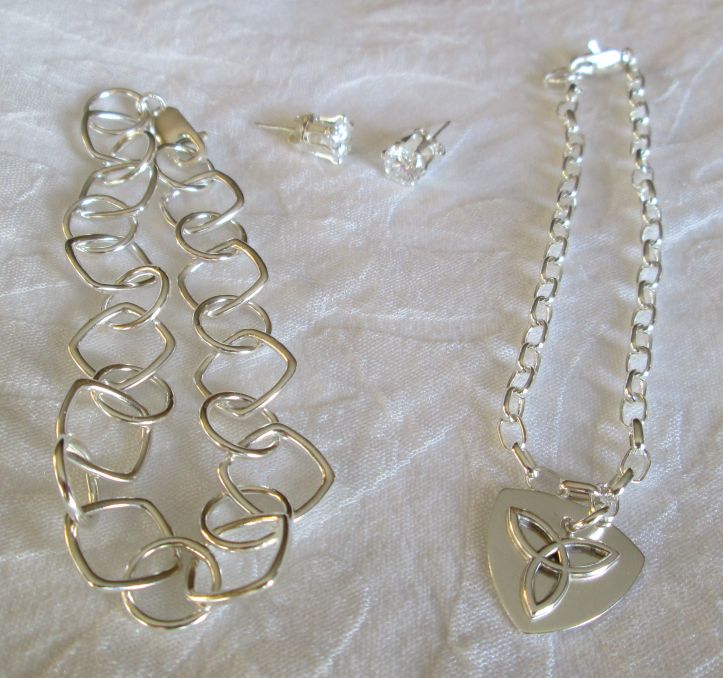 The bracelet on the left was the first project, and while all the square links were solid, the circles were split rings that needed to be soldered shut to complete the bracelet.  While on some of them I did use more solder than I needed to, most of them still came out reasonably well I think.  One ring came out just a little deformed though, and I was able to find out from Mark that I had used too much heat.  I think that has been one of the problems I've been running into in the past.  Today went a lot smoother than my past soldering experiences overall.  By the end of the day I seemed to be getting a handle on how much flame I needed for different tasks.  The second project was the earrings – we had to solder the posts on the back before we could clean them up and pop the stones into them.  Again, I was using more heat than I needed and melted two posts before I started to find  the groove.  Then we did the bracelet on the right.  We started by soldering the bit of design down onto the charm – something I would have messed up normally, but Mark's demo helped me figure out how it "should" be done.  It's probably the most perfect solder of that type that I've done.  We also soldered up the ring holding the charm onto the chain and a ring on the one end for the clasp to latch onto.  I'm very pleased that I managed not to melt a single jump ring into mush today!  It's gratifying to feel as if maybe I CAN handle myself with the torch and should give myself just a little more credit.  Knowing proper technique can really make the difference!
I have to lodge a complaint with the state of New Mexico, however.  It's colder here today than it is back home!  The temperature back around Cary, IL is 55 degrees.  Granted it's foggy and rainy, so I'd probably be miserable, but it's COLD here today in the 20-30 degree range.  **pout**  The weather worked more in my favor last year.  But this year I was so distracted by my wandering suitcase that I forgot to put in a request for warmer weather…
More tomorrow – day 2 of soldering class should be fun!
Latest posts by amyhoward (see all)