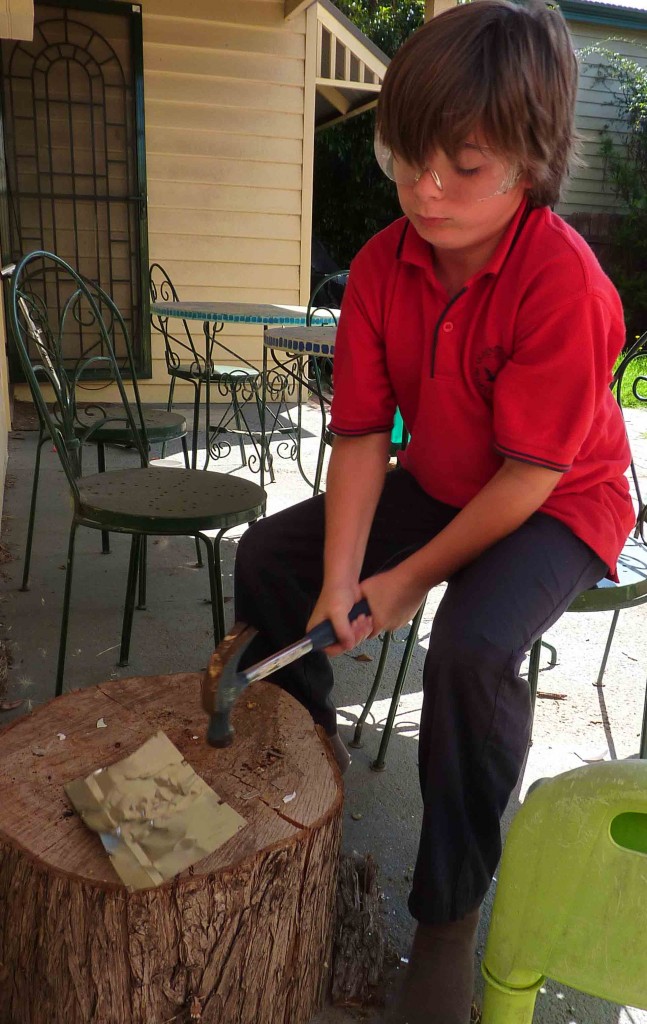 I began writing this blog to record the impact my laundry project was having on my family.  However, since then things have taken a wider turn and I am observing a knock on effect in the local community.  It's just fantastic and reinforces our decision to live in a small town.
So here's the issue:  When I was a student in London I enjoyed all the smithing projects I attempted.  I put my child's sense of rhythm down to the fact that I spent a good part of the pregnancy leaning over mandrels with hammers or sitting at a stump sinking and forming.  I just loved it!  So as part of my laundry workshop I have made it my mission to find a stump to enjoy this again.  I think my children will love it too.
Both kids enjoy playing with a couple of cyprus stumps in our garden. They love deconsturcting and bashing…anything!
Having done my intensive weekend through CAE with the lovely Catherine Da Costa I revisited that old feeling of satisfaction with smithing.  Mind you, I only played with copper for an hour or so yet it was enough to inspire my hunt for the perfect stump.  The CAE improvised with these woodeblocksbut it just wasn't the same.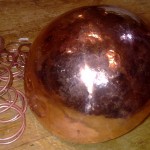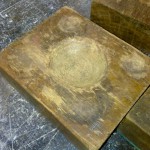 I teach computers and media at a local Neighbourhood House and it was during an art class (as a student)  I was made aware that several coastal Moonah trees were to be lost. I took my camera out one morning and just recorded what I saw and posted this video: The Memory of Trees.  It started a chain of events which led me to help the artist Deborah Brearleystart a Facebook group called:  Moonahs Not Mulch.  To cut a long story short, Deborah has been overseeing the Queenscliff Community Garden and she rescued the the Moonah stumps from being mulched and offered a couple to me.
Now in my garden, the problem I face is how to get symmetrical shapes/curves in the wood so I can sink metal?  I have spent many wasted hours pouring over Google Images of metalsmith stumps but I have just come across a blog of someone who did workshops at my London University and posted pictures of the process, including stump he used, the same stump I used for my three years as a student there.  Here it is: My holy grail of stumps!  
The Neighbourhood House where I teach, Queenscliff, runs a Men's Shed group and they are keen to take up the cause of shaping my stumps.  Their member's have consulted with members of a Bellarine Woodworking group and I am receiving reports that my stumps are the subject of a few meetings!  Isn't it fantastic how a small town works.  The last I heard was an angle grinder is a "nasty piece of work" and the alternative is lots of chisels.
So there you have it, the story of my stumps.  As a footnote Deborah Brearley is planning a Moonah exhibition next year and hoping to use anything produced with the saved wood.   I already have a project on the boil involving seed pods from one of the doomed Moonahs, but that's another story.