Gemvision Matrix V8. Discussion with Christopher Burger and answer to Gemvision lacking Dynamic History
Click the photo to see the dynamic history of Jewelry Cad Dream magnified.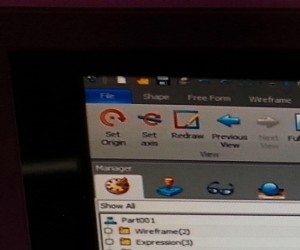 Hi
My name is Allan Stratton and this is the discussion between Christopher Burger and myself about the most important part of the jewellery cad files and the value of them in the future. The ability to change the files at will after you save the file. Christopher Burger talks about Gemvision HISTORY and I now ask specific questions to get to the bottom of the mystery of Gemvision History. Is it as good as Christopher says or is it as dynamic and versatile as Jewelry Cad Dreams DYNAMIC HISTORY.
Christophers answer to my question about HISTORY.
Christopher Burger Matrix History streamlines the parametric modeling process with built-in "history trees" that are automatically created for the user behind the scenes. They are smaller in that they only apply to objects that naturally relate to one another in jewelry design, such as a gem and its setting or a ring shank and its cross-section shape. By avoiding the limitations of traditional parametric modelers, which connect all parts of a model together, Matrix History enables a free-flowing design process that allows the user to choose which elements will be updated and which will not.
In Matrix History, each design element modeled with easy-to-use Matrix Builders retains a memory of the values used to create it. What's more, every gem in the program "remembers" the parameters of the settings applied to it. This means that gems retain a memory of the style, shape, size, and location of their related elements, including prongs, heads, bezels, channels, bright-cuts, azures, etc. Return to the model at a later date and edit any history-enabled parts you choose, and your changes will be reflected in just the related parts of the design. It's even easy to make further design modifications to related parts in order to perfect the jewelry piece.
Using Matrix History, you can apply existing design parameters to a new gem size, shank shape, or setting style to quickly create several variations on one design or a even a line of related designs. Save a library of your favorite parts and apply them to new designs, and the parts remain flexible, thanks to History, so you can adjust them to best suit the new piece.
By streamlining the parametric modeling process and making it more flexible and intuitive than the traditional "History Tree", Matrix provides jewelers with a design-oriented workflow that combines both freedom and functionality. Remember, you are building jewelry, not automobile engines. Jewelry creation is a creative work of art!!
Now I have to ask the tough questions and wait for Christophers answers.
Jewelry Cad Dream can do this.
Can Gemvision Matrix V8 do any of the following?
1-Can you play your history like a recorder-fast forward, rewind, stop, edit, move sketches to different planes,
suppress and unsuppress (turn one or more commands on and off) and still replay?
2-Can you Cut and Paste a command or entire group of commands from one part of your history to another part of your history in the same file?
3-Can you Cut and Paste a command or entire group of commands from one part of your history to another history in a totally different file?
4-Can you modify your commands at ANY time even after subsequent operations have been performed like fillets, booleans, etc.?
5-Can you stop in the midst of history (e.g. like you did a rewind on your file and fast forward slightly, but not completely)
then start to build in the midst, while you still have the other portion of the history waiting to be rebuilt?
6-Can you place individual or group controls on specific parameters (e.g. we want to control many curves of our needs)?
7-Can you measure your parts and create controls off the measurements?
8-Can you FREEZE a section of your history to lock down on specific commands that you want no
changes made to so no regeneration is needed on them?
Could all of the above be done while maintaining associativity with constraints? in other words a very high quality linkage between commands?
These are some of the outstanding features that are the norm with Jewelry Cad Dream software.
Can Gemvision users please tell me if they have any problems with the New Matrix V8.
Also please let me know if Gemvision history allows you to change any item at any time after you save the file like the dynamic history that Jewelry Cad Dream provides or if Christophers views give you a system that lets you sell your files and lets the person you sell your file to be able to change any aspect of the file to their requirements for their customer?  So please leave your views. Any feedback will be displayed on this site.
If Gemvision V8 does have these features please state it;
Can you change everything with ease after you save the file or is Christopher playing games and relying on bluff to answer my questions or has the program got the capability for you to change any aspect of your file at any time.
All cad programs must have this dynamic capability for the future and in another review I will explain why.
I will inform you as Christopher Burger, Vice President of Gemvision answers these difficult questions.
Thanks Chris for your help.
All cad users are free to leave your views and demonstrate how good the program you use is, But I will be comparing its capabilities to see whether it comes up to the impeccable standard of JEWELRY CAD DREAM software.
If you don't have these capabilities, try Jewelry CAD Dream!!
Latest posts by Allan Straton (see all)