At my day job, I'm a medicinal chemist.  The guy I work for, in addition to being an all around great guy, is one of the top guys in his field, and people come from all around the world to work with him and learn.  One of the people here now is the chair of the department of chemistry at Seoul National University.  He comes when he can, and stays several months and works at the bench, something he doesn't have the time to do back home.  He just came back for a short three week visit, and this will be his last.  When he arrived he gave several of us these neat little bookmarks: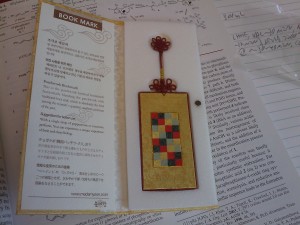 The case is pretty sweet too, and appears to have a rare earth magnet for its closure.
I wanted to give him something as a going away gift; who knows when one might need a letter of reference from a bigwig, right?  I figured a bookmark with some chemistry symbol would be good, and these days I've been favoring benzene for that.

As a chemical, benzene has little to do with what he, or I, does, but has an immediately recognizable form, is known by all chemists, and has a certain charm as a simple geometric form.
I mocked up a few super simplified drawings using ChemDraw for the benzene ring, and GIMP for the further drawing, and decided on this style: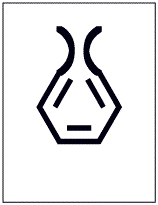 All the black lines would be pierced out, the body of the ring itself would be a flap, and I could make it out of a sheet of silver.  All handy since this project had a bit of a time budget.  However I was missing an element, the line to close the hexagon at the top couldn't be pierced out and something else would have to be done.
I had a conversation with another student about what to do and one of the ideas he threw out was Keum Boo, which I felt would be perfect.  A little color addition, and a stolen Korean technique, what could be better?
I took an excellent argentium fusing workshop from Ronda Coryell a few months ago at Creative Metalworks, and have been messing around with it a bit since then.  Cynthia Eid recently described an argentium bowl with Keum Boo applied to it.  I have no idea how she did it, but I assumed it didn't involve depletion guilding, which would fit in perfect with this project.  I could roll the silver to thickness to harden it, and not anneal it after.  If need be I could precipitation harden the final piece as well.  That and I'm pretty lazy.  In fact mostly lazy, the lack of depletion guilding was really the big sell here.
I rolled out a sheet of argentium, sanded to give it some tooth, cut it into squares, and annealed one square to bring up the germanium oxide to attempt the application of Keum Boo.  It shouldn't make any difference, since the oxide layer comes up at 250 F, but what good is a lopsided experiment?  No good, that's what.  Both were cleaned with 4F pumice, water, and a toothbrush.
There is a nice hot plate for applying Keum Boo to flat objects at the studio, that I'll show a bit later, so I cleaned a piece of steel, preheated the hot plate to ~500-600 degrees F, and placed the steel on it.  When the steel was straw color (~450-500 F), more or less, I placed a square of silver with a flake of Keum Boo foil on it.  I stood over the apparatus, agate burnisher in hand, all atwitter waitng for the first sign of adhesion.  Adhesion never came, so I removed the silver, very rapidly prepped a small sheet of fine silver, threw it on the steel, and stuck some gold down on it.  At least I knew the gold and temperature were right for fine silver.
For fun, I tried to heat one of the argentium sheets from the back with a torch to adhere the gold, but I accidentally overheated it, and most of the gold was absorbed.  I turned up the hot plate, got the steel to blue, and re-submitted the argetium.  This attempt met with success.  The argentium/blue steel combo seemed to work very well.  The argentium picked up a yellow color, but it was very easy to remove.  Scratching with a thumbnail even removed some of the color.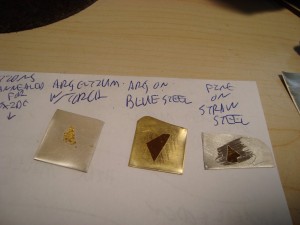 I had printed out a sheet of paper covered with benzene rings of different sizes and line thicknesses, and took it with me to the studio.  I estimated a good size for a bookmark, and layed out the rings on it, and chose what I thought would be a good size.  I rolled a sheet out to about 65 mm x 65 mm x 24 ga, pricked the corners and scribed lines for the Keum Boo bar.  I wanted to put the bar down first and then pierce around it, so that if the foil moved while burnishing I could adjust later.
Using the higher temperature it went down quite nicely, and the color that the argentium had picked up came off readily.  I stuck the paper down with double sided tape, drilled, and pierced the design.  It kind of reminded me of the Mr. Yuk stickers that used to be distributed to put on household chemicals.  Perhaps my best moment in this project was when I realized that later operations might be a complete pain in the ass if done when the flap was free, so I left it attached by a small tab.
Once I had the design basically laid out and cut, I removed the paper.  That's when tragedy struck … que bad music here.  The gold was predominantly peeled off by the tape.  Having never done this before I can't say if the fault was in the approach or in the execution, but that hardly mattered at that point.  I gave it a quick buff with rouge, and some more foil came off while some remained.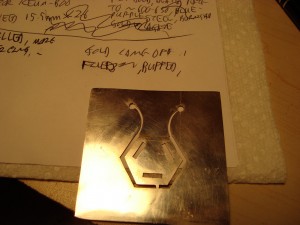 I set up to reapply the foil, used a bit more time and heat with lots of burnishing.  I closely inspected the join, and immediately resubmitted it to more heat and burnishing.  The argentium colored up quite a bit, but the new foil was down and stayed down.  I buffed the peice briefly just to make sure it was really stuck on good, and moved to prefinishing and marking.  It went down so well you can clearly see my prick points and scribe lines.  That argentium is soft stuff when it's annealed, yikes!
This is already too long, so I skipped describing all the filing and detail work.
I was a bit behind schedule as the piece had to go out today, so I didn't get a chance to really finish it up the way I would have liked, and I didn't get to put it in the light box and get some decent pics of the finished bookmark.  I do have these two I took right before I went to bed.
I gave it to the professor today and he seemed to really like it, so I think it worked out pretty well, all in all.
Latest posts by jasondeck (see all)